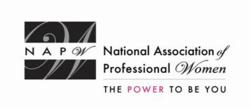 She stressed to the audience the importance of constructive feedback to the presenters to assist them in their growth and professionalism.
Garden City, NY (PRWEB) March 12, 2013
Members and guests of the NAPW Tucson, AZ Local Chapter gathered for the second time this year on February 27th for a professional networking meeting at Chad's Steakhouse.
The group of professional women got helpful advice from two experts: Sarah Lee-Jovon of New York Life and Tucson Chapter President and Professional Coach Barbara Nerseisan.
Both presenters agreed to be evaluated by the group, which proved to be constructive and helpful for all.
Barbara Nersesian kicked off the meeting by asking everyone to be quickly seated and to do a very brief self introduction.
Tucson Chapter Secretary Lillian Sherman passed out the presenter evaluation forms and explained the activity: Each woman would do a 15-minute presentation; the audience would complete the form, and be prepared to share their evaluation aloud to the presenter when she was done.
"Lillian had explained to the presenters before the meeting that each was to strive to not defend themselves but to listen and say, 'Thank You,'" said the Chapter President. "She stressed to the audience the importance of constructive feedback to the presenters to assist them in their growth and professionalism."
The first presenter, Sarah Lee-Jovon, did a thorough job of explaining the importance of retirement planning. Her presentation emphasized the advantages of Whole Life Insurance as offered by New York Life. After she spoke, the group of professional women gave her some feedback.
"The audience did an excellent job of giving positive and practical feedback. Each person in the audience was very willing to share her experience and knowledge," said Barbara.
"All agreed that Sarah's use of her voice, gestures, and eye contact was excellent."
Some of the attendees suggested Sarah share personal stories (without the clients' names) that would highlight certain power point bullets she can't change since it is the company's presentation.
Next, the Chapter President, Owner of Nersesian & Associates, which offers both individual professional coaching and corporate coaching for Executives, Staff Members, and Board Members, took the floor. Barbara's presentation was on the Four Generations in the workforce.
"It was the first time that I had an opportunity to use my power point presentation, and I was very pleased to receive constructive feedback from the audience," said Barbara.
Once again, the audience was alert and very involved with the presentation. The group of professional women pointed out what Barbara had done well and where she could improve. All agreed that the attendees' critiques were not only helpful to the two presenters, but to others who have to deliver presentations to groups.
After the speakers, new members were asked to share more information about themselves and what they wanted to get from the Tucson Local Chapter.
The consensus was to form relationships with other professional women in addition to networking. Also, along with building relationships, the women said receiving and giving support to other women is also important.
Lady Joan Waithe intrigued the group as she shared the story of her name. She told everyone how she had purchased a square foot of land in Scotland and has the legal right to use "Lady" and other benefits of this title. All continued to be fascinated as she talked about her business on "fashion accessorizing."
Alaina Herlihy works out of her home in Vail. She specializes in marketing, graphic design, web development, and photography.
Pam Hopman 's company delivers presentations to large and small groups on financial planning, taxes, and investments. She is also involved in presentations for large groups as an Escrow Officer; and Nancy Jones coaches and trains executives in public speaking, leadership, and management.
Maya Baker asked for assistance in her recent endeavor of recruiting women to work for her company (G4S Secure Solutions) in law enforcement. Maya also mentioned the difficulty of finding women in the company currently who will take a supervisory role. A special woman is necessary. Suggestions came from a number of the members.
Lady Joan suggested the military's placement agency. Lady Joan had retired from the military after 20 years and knows how difficult it is today for the transition from military to civilian.
Lillian Sherman suggested high school programs as juniors and seniors are making decisions for their future like a ROTC program. Open discussion was energetic with all involved.
The Chapter President asked if there were any volunteers to speak at the next meetings. A number of the group turned to Lady Joan and asked her if she would do a presentation at the March meeting. She said yes.
"We're all so excited that Lady Joan agreed to speak," said Barbara. "I am sure it will be a great success!"
Pamela Hopman volunteered to do a presentation on financial planning in May rather than April.
A discussion will take place at the next meeting in March to see whether or not anyone would like to present at April's meeting or if a roundtable discussion should take place on marketing or office relationships.
Barbara Nersesian adjourned the meeting with a thank you to all for attending and encouraged them to invite other professional women to attend future meetings.
The next Chapter meeting will be held on March 27th at Chad's Steakhouse at 5:30pm.
The following members were present at the February networking event: Barbara Nersesian, President; Barbara Barth, Vice President; Lillian Sherman, Secretary; Sarah Lee-Jovon; Lady Joan Waithe; Alaina Herlihy; Pam Hopman; Pamela Neal; and Maya Baker. Nancy Jones, guest of Pam Hopman, was also present.
The National Association of Professional Women (NAPW) is the largest and most recognized network of female professionals. NAPW provides a forum where women can interact, exchange ideas, educate, network, and empower. NAPW Local Chapters allow members to maximize their experience through meetings, networking opportunities, and professional events.
For additional information regarding the NAPW Tucson, AZ Local Chapter and/or NAPW, please visit http://www.napw.com.
Follow NAPW on Facebook and Twitter.
###