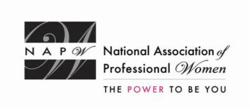 The dish Chef Moses prepared was quick and easy enough for members and guests to do themselves at home...He showed us that maintaining a healthy heart can be fun, and not just for one day, but as a lifestyle!
Garden City, NY (PRWEB) March 19, 2013
Members and guests of the NAPW Waldorf, MD Local Chapter gathered on February 26th for a professional networking meeting at the ABC Wellness & Fitness Center.
In recognition of February as Healthy Heart Month and the American Heart Association's Go Red for Women campaign, the group of professional women got heart-healthy cooking lessons from Chef Moses Jackson.
"At our monthly networking meeting in February, the NAPW Waldorf Local Chapter decided to commemorate Go Red for Women (Healthy Heart Month) by learning how to prepare a quick healthy meal," said Chapter President Tammy L.S. Wright.
Chef Moses Jackson taught the group of professional women to do just that as he demonstrated how to cook one of his healthy dinners. The Chef told members and guests that he has 20 years of culinary experience and learned the importance of using the freshest ingredients early on in his career.
Chef Moses has a passion for people and food. He has displayed his culinary skills at various festivals such as Essence, Heritage Jazz Fest, and the French Quarter Festival and has prepared dishes for several events at the New Orleans Food Museum. Chef Moses was also featured with the Praline Connection in the Where Magazine and Louisiana Cooking Magazine.
Most recently, he prepared dishes for the Ladies in Red Gala and the Delta Sigma Theta sorority in New Orleans. Chef Moses was featured on the WWL TV news demonstrating one of his many signature dishes, mirliton slaw and pan fried speckle trout.
In less than 30 minutes, Chef Moses demonstrated to the Waldorf Chapter the preparation of salmon with mirliton slaw. He topped it off with a light dessert that members and guests could not get enough off.
Chef Moses gave everyone a cutting board and encouraged the women to take steps toward eating healthier.
"The dish Chef Moses prepared was quick and easy enough for members and guests to do themselves at home," said Tammy. "He showed us that maintaining a healthy heart can be fun, and not just for one day, but as a lifestyle!"
Afterwards, the group of professional women networked and received important information about the key to a healthy heart along with gift bags courtesy of Kelly Perry Enterprises.
The Chapter President discussed the upcoming NAPW National Networking Conference with the group and shared her photos from last year. She discussed travel and lodging expenses as well as the urgency to RSVP once the request for registration is sent.
"The NAPW National Networking Conference will be held Friday, April 26th in New York. It features keynote speakers Martha Stewart and Arianna Huffington," she told the crowd. "It is free to all members. More details are available on napw.com."
Additionally, the group of professional women reviewed and discussed the requirements for Ms. NAPW 2013.
The next Waldorf Local Chapter meeting will be held Tuesday, March 19th at 6:30pm at Quality Printers located at 10485 Theodore Green Blvd, 6, in Waldorf.
In attendance were NAPW Waldorf Chapter members: Tammy L.S. Wright (President), Kelley Perry (Vice President), Tonja Brooks, Monique Gaskins, Evon Bumbrey, Chika Cjukwu, and Stacey Cousineau.
Lisa Barnes and Rhonda Johnson attended as guests. Lisa Barnes is the Owner of Celebrating You, which has always been committed to celebrating the individual by nurturing the mind, body, and soul. That's why Celebrating You has become Metropolitan Washington's premier on-site spa service company.
In addition to being luxurious and relaxing, their massage services can also help to enhance health and wellness. In fact, massage therapy can be a rejuvenating part of a healthcare regimen. Plus, their skincare treatments can help to restore skin to its natural beauty.
The National Association of Professional Women (NAPW) is the largest and most recognized network of female professionals. NAPW provides a forum where women can interact, exchange ideas, educate, network, and empower. NAPW Local Chapters allow members to maximize their experience through meetings, networking opportunities, and professional events.
For additional information regarding the NAPW Waldorf, MD Local Chapter and/or NAPW, please visit http://www.napw.com.
Follow NAPW on Facebook and Twitter.
###