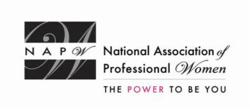 The Warwick Local Chapter's February meeting was a mixture of current and potential members, bringing additional women together as we continue to build our Chapter,
Garden City, NY (PRWEB) March 13, 2013
Members and guests of the NAPW Warwick, RI Local Chapter gathered on February 20th for a professional networking meeting.
The group of professional women heard about the dangers of identity theft from Chapter President Pipier Bewlay, who offered attendees practical tips and helpful suggestions for protecting their identity.
NAPW Warwick Local Chapter President Pipier Bewlay kicked off the networking meeting by welcoming members and guests to the monthly event.
"The Warwick Local Chapter's February meeting was a mixture of current and potential members, bringing additional women together as we continue to build our Chapter," said Pipier.
Since the meeting's topic was "Protecting your Identity," the Chapter President began her presentation with a brief history about identity theft.
She told the group it is a very real problem, one that has been steadily increasing over the last decade.
"As of today, 9.7 million people have been the victim of identity theft in some form or another. Many people do not realize that a large percentage of identity theft is caused by someone you may know or have let into your home," Pipier told the crowd.
The Chapter President went on to explain to members and guests that there are ways to protect themselves, despite the alarming number of internet scams out there.
She gave the group of professional women expert guidelines they could follow to ward off the threat of identity theft:

Shred personal papers, bills, or anything that may have very specific information about you on it
Keep your social security card in a safe place – this does not include your purse
Look into purchasing a locking mail box to keep information safe while at work, and don't mail bills from your home mailbox
Move to online bills and bill payment so shat information never reaches your home mailbox
Make sure you have a strong firewall on your computer and strong passwords for your accounts
Look into purchasing a product to monitor your credit, other accounts, and your children's credit
Pipier suggested using a program such as Legal Shield, which not only notifies users of potential breaches, but also handles restoration of one's "good name" if identity theft does occur.
The Chapter President also told the group of professional women to be sure to keep tabs on minor children's credit rating.
"Since the law requires a child to have a social security number basically at birth, this is a rich trolling ground for identity theft thieves," she said to members and guests.
"By the time a child reaches 18, their credit could be completely destroyed and you would not even know it."
At the conclusion of the Chapter President's presentation, the meeting continued with a networking session. The group of professional women enjoyed food and refreshments while getting to know more about one another and connecting on personal and professional levels.
Before the meeting ended, Pipier made a number of announcements concerning details about upcoming Chapter meetings.
Next month, Chapter member Lauren Silveira, Owner of Organized for Life, is going to share her expert insight into how organization can impact a person's health and she will give tips for spring cleaning.
The Chapter's next meeting will be on March 20th at 5:30pm at Chianti's, located at 195 Old Forge Road, East Greenwich.
Meeting dates for the second quarter will be posted shortly and there is already one speaker lined up from Habitat for Humanity.
The Chapter President encouraged members to let her know if there are other topics they have an interest in or a speaker they would like to invite to present at a future meeting.
The following members were present at the February meeting: Wendy Tivisonno Director of Strategic Biologic Sourcing for the Blood Centers of America and Tracey Renzi, Field Service Manager for Johnson and Wales University; guests and perspective members included Diane Dowiot and Joyce Hurlbut.
The National Association of Professional Women (NAPW) is the largest and most recognized network of female professionals. NAPW provides a forum where women can interact, exchange ideas, educate, network, and empower. NAPW Local Chapters allow members to maximize their experience through meetings, networking opportunities, and professional events.
For additional information regarding the NAPW Warwick, RI Local Chapter and/or NAPW, please visit http://www.napw.com.
Follow NAPW on Facebook and Twitter.
###