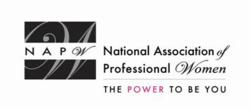 Lauren's presentation was a great success! Our group was very engaged. They asked questions such as how to organize scarves and promotional t-shirts accumulated over the years, and how to remember to pick up dry-cleaning...We all chimed in.
Garden City, NY (PRWEB) March 28, 2013
Members and guests of the NAPW Warwick, RI Local Chapter gathered on March 20th for a professional networking meeting at Chianti's Restaurant in East Greenwich.
Just in time for spring, the group of professional women got expert tips and advice for organizing their wardrobe from Lauren Silveira, Owner of Organized for Life Warwick, and a Warwick Local Chapter member.
"The Warwick Chapter's March meeting was a great success! Our group met once again at Chianti's Restaurant to network, enjoy great conversation, and hear an enlightening presentation," said Warwick Chapter President Pipier L. Bewlay.
"We were once again served by Kylie, the best waitress in town!"
Guest speaker Lauren Silveira, who sports a double life as the sole Owner of Organized for Life and as an Account Executive for Crimson Rose International, a fashion jewelry company, shared her expertise in her presentation, "Organizing your Wardrobe."
"There is a quote by Arthur Buddhold, 'Follow your passion, and success will follow you' and it certainly rings true for Lauren! She began her presentation by explaining she was "OCD" as a child and had a penchant for helping her mother clean, move furniture, and organize things," said the Chapter President.
Lauren noted that clutter affects people "mentally," therefore, a clean, organized house or business promotes a person's well-being, and a cluttered existence can set the tone for a disorganized, challenging day.
The Professional Organizer counseled the group of professional women to not be afraid to let things go – to make time to de-clutter. Lauren told the attendees that in her work, she has encountered many people who are very attached to their "stuff" but need to realize that purging the unnecessary things in their life is actually liberating.
"Your home should be your refuge," Lauren told members and guests.
"We should strive to create balance... as our home and work space is an outer reflection of our inner state."
Lauren's mission in life is to help others identify the issues in their home (or business) and advise them on how to de-clutter to make a happier, Zen-like existence.
The following are tips Lauren shared with members and guests to help them achieve an organized wardrobe while spring cleaning:

Have a vision for the space
Determine what's not working
Take everything out of the wardrobe
Separate shoes, accessories, clothes, etc.
Purge
o Ask yourself – "Do I love it?" "Does it fit?" "Do I wear it?"
o If the answer is no…let it go!

Have a plan – be sure to have at least two boxes on hand to:
o Consign
o Donate to charity/give away to friends and/or family

Once you have determined what goes…you know what is worth keeping!
Work your clothes back into the wardrobe organized by color–light to dark
Turn the hanger backwards once worn…this way you'll know the hangers that are still facing forward were never worn and can be purged at season's end.
"Lauren's presentation was a great success! Our group was very engaged. They asked questions such as how to organize scarves and promotional t-shirts accumulated over the years, and how to remember to pick up dry-cleaning," said Chapter President Pipier. "We all chimed in to offer our best practices."
Some of the suggestions members and guests came up with included: use tie racks in closets or metal scarf rings on hooks on a wall behind doors to organize scarves; go online to find companies that will turn your t-shirts into quilts; and for dry cleaning, use a pickup/drop off service, or set the reminder on your cell phone.
To learn more about Lauren's business and how it can help you to organize your life, check out the following links: Lauren's Facebook Page Link and Lauren's YouTube Video Link.
"We wrapped up the night with a lively networking session, enjoyed some fabulous food, meaningful conversation, and posed for the camera with our NAPW banner!" said Pipier.
"All were reminded that our next Chapter meeting would be on Wednesday, April 24th are welcome to bring a guest."
Women attending were affiliated with various companies, organizations, and career paths: Year Up Providence; Tekla, Katie, Ashley, and Cathy Doyle; Johnson & Wales University; Tracey Renzi; Cox Communications; Pipier Bewlay and Joyce Hurlbut; Crimson Rose Int'l/Organized for Life; Lauren Silveira; and National Corporation of College Consultants; Shannon Salisbury and HR Leader; Nancy Kinirons.
The National Association of Professional Women (NAPW) is the largest and most recognized network of female professionals. NAPW provides a forum where women can interact, exchange ideas, educate, network, and empower. NAPW Local Chapters allow members to maximize their experience through meetings, networking opportunities, and professional events.
For additional information regarding the NAPW Warwick, RI Local Chapter and/or NAPW, please visit http://www.napw.com.
Follow NAPW on Facebook and Twitter.
###