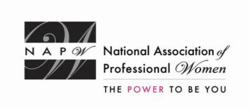 Samantha shared that nutrition was as much about how we feel about food as it is about the food itself,
Garden City, NY (PRWEB) March 28, 2013
Members and guests of the NAPW Westchester County, NY Local Chapter gathered on March 21st for a professional networking meeting at Nirvana Spa, Inc., on Central Park Avenue in Scarsdale.
The group of professional women enjoyed an evening of networking and learning about nutrition, including how to read fool labels to make informed food choices from Registered Dietician, Samantha Joy Mark.
On hand to welcome the group of professional women to the meeting was NAPW Westchester County Local Chapter Vice President/President-Elect Crystal M. Cutler, standing in for the Chapter President Sara O. Speicher, MBA.
The venue for the evening's meeting, Nirvana Spa, which offers facials, make-up, body, specialized treatments, and gift packages, was the perfect backdrop for this month's presentation on nutrition.
After inviting attendees to network and connect with one another, Crystal introduced the evening's guest speaker, Samantha Joy Mark, RD, CDN, a Registered Dietician for the ShopRite Supermarket of Tuckahoe Road in Yonkers to the crowd.
Attendees were eager to hear what the guest speaker had to say about nutrition.
"Members and guests were fully engaged and enriched by Samantha Joy Mark's informative presentation with welcomed questions and comments throughout," said Crystal.
The Registered Dietician explained how she is responsible for developing nutritional programs for the store, and providing nutritional guidance and information to the local community that helps influence better food choices.
She also offers free individual nutritional counseling, shopping tours, product tastings, kids' programs, and in-store health screenings.
"Samantha shared that nutrition was as much about how we feel about food as it is about the food itself," said the Chapter Vice President/President-Elect.
The guest speaker advised members and guests to balance meals with snacks and exercise, always eat breakfast, and eat something small, even when not hungry, since not eating slows the body's metabolism. Low-fat chocolate milk is great for refueling after a workout, meatless Mondays are still a good idea, as is letting meals be about the food, not about the TV or the next activity.
So many factors affect us and our nutrition; learn the basic foundations and go from there to take control of nutrition. Samantha reviewed the new "My Food Plate" that replaced the Food Pyramid and instructed the group on how to read food labels with a new focus on daily values.
At the end of her presentation, Samantha shared healthy chocolate snack bars and grain cereal from ShopRite's Live Right section of organic and gluten-free foods with attendees.
Vice President/President-Elect Crystal M. Cutler announced the release of the Westchester County Chapter's Winter Newsletter and encouraged anyone who had not received a copy to simply let her or Sara know and a copy will be emailed to them.
The NAPW National Networking Conference scheduled for April 26th in New York City was discussed with much interest and enthusiasm.
"I think it would be a great idea for Chapter members to meet up at the conference and take a group photo for the newsletter," she said. "Then we can lunch and/or attend sessions together."
Crystal said she would send out an email to all members to coordinate the effort. She reminded everyone that the Chapter meetings are posted to the Chapter page.
The monthly networking meeting and guest speaker presentation made a very positive impression on all who were present, as is evidenced by the following comments from members:
"I just wanted to say that last night's meeting was so great! It was insightful and informative. Wow, the time went fast...I hope we can continue to have interesting speakers at all monthly meetings," said Lynn Buckmeyer, who is seeking a new career opportunity as her position at UBS Investment Bank was made redundant this past December wrote.
New Chapter member Judy Garfinkel expressed similar sentiments, "What a lovely meeting and interesting group of women. I'm looking forward to getting to know you all better. Thanks so much. I am looking forward to the next meeting."
Finally, new member Donna Douglass commented, "I enjoyed meeting everyone and am looking forward to getting to know them all, their businesses, and how we might help, support, and do business with each other."
The following member were present at the March meeting: Cheryl Croce, Lauren Schwarzfeld, Linda Parker, Lynn Buckmeyer, Natasha Galperin, Thelma Jones, Cappy Devlin, Angela Neugebauer, Carmen Meausoone, and Crystal Cutler.
New members who attended this meeting: Judy Garfinkel is the Owner of Move into Change, a Project Creation and Completion, Life Balance, Parenting, Self Care, Life Purpose, Career, and Life Coaching service that offers a free 15-minute coaching call to see if coaching is for you.
Donna Douglass is a Whole Foods Chef, Holistic Health Coach, and the Owner of What's Cooking with Donna Douglass. Donna specializes in culinary and wellness services for busy professionals, in-home meal preparation, dinner parties, cooking classes, wellness workshops, and whole food nutrition products.
The National Association of Professional Women (NAPW) is the largest and most recognized network of female professionals. NAPW provides a forum where women can interact, exchange ideas, educate, network, and empower. NAPW Local Chapters allow members to maximize their experience through meetings, networking opportunities, and professional events.
For additional information regarding the NAPW Westchester County, NY Local Chapter and/or NAPW, please visit http://www.napw.com.
Follow NAPW on Facebook and Twitter.
###