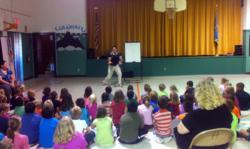 Our young people need to know about the destructive power of drugs before they fall into the trap of drug abuse and addiction
(PRWEB) April 01, 2013
While the White House funnels $1.7 billion toward drug prevention, the annual Monitoring the Future survey shows that drug abuse levels among school-aged kids remain high. Is it really possible to change young people's minds about drug abuse? Five years ago, a controlled study of the Narconon drug education curriculum revealed that young people's attitudes toward drugs could, in fact, be improved. Now, current survey responses from teens receiving the same drug education curriculum show that they are still getting the message.
The peer-reviewed study published by the journal Substance Abuse Treatment, Prevention and Policy provided the results of Narconon drug education delivery in Oklahoma and Hawaii. This study (available at http://www.substanceabusepolicy.com/content/3/1/8) reported significant changes in substance abuse and attitudes about substance abuse among the high school students who participated in the study.
Now, drug prevention specialist Niko Bain travels across Oklahoma, Kansas and Arkansas to deliver lectures from the same curriculum. In an average week, he reaches 800 elementary, middle and high school students. After each lecture, he collects surveys from the youth. These students are remarkably frank about their opinions. Since he himself began delivering drug education lectures in September 2012, he has received thousands of surveys from students saying they will either not start using drugs, they will stop or will stop others from using them.
"The positive response from these young people is overwhelming," said Niko. "The number of young people who say they are going to stop using drugs or never start motivates me to reach even more students with this curriculum. People who might think it is difficult or impossible to teach youth not to use drugs should learn that young people just need to be approached in the right way with accurate information about drugs." Niko provides drug education services full-time for Narconon Arrowhead, located near McAlester, Oklahoma.
Some of the eye-opening comments from these students:
It really makes you think, do you really want to ruin your whole life because of one mistake? I now know how much damage it could do so I would stay away from the people who do drugs.
The talk was very helpful to me because I have been feeling down and wanting to find a way to feel better lately and now I know that drugs won't be the way. I thought it would be an escape but I realize now it will only take you downhill. I will not do drugs because I learned what it could do to you.
It was very well planned and laid out. I liked the presentation. I will never do drugs again. I have been clean four months now. My mom just stopped using meth six months ago so I will never do it again. I moved here because I overdosed.
Niko can really knock some sense into people who need it! I learned from past experience about drugs so I agree with you. This talk was encouraging. THANKS.
It showed me a lot that I didn't know about drugs. It changed my views on weed. I used to smoke pot and I've been wanting to do it again and now I don't.
This confirmation of the effectiveness of the Narconon drug education curriculum comes at a time that improvements are desperately needed for our youth. A recent survey from the National Center on Addiction and Substance Abuse states that 86% of high school students across the country are seeing their classmates using drugs, drinking or smoking during the school day. More than half say there is a place near the school grounds where students go to get high during school hours.
"Our young people need to know about the destructive power of drugs before they fall into the trap of drug abuse and addiction," commented Gary Smith, executive director of Narconon Arrowhead. "This is why we support and sponsor these drug education classes into hundreds of schools across three states. We know our curriculum works and want to save our next generation from the need for recovery from addiction. This is part of our mission, to reach tens of thousands of students each year with a drug-free message."
For more information on the Narconon Arrowhead drug education curriculum or to request a program for your school, call 1-800-468-6933 today.
(Stories minimally edited for clarity.)
http://www.casacolumbia.org/templates/NewsRoom.aspx?articleid=692&zoneid=51
http://www.substanceabusepolicy.com/content/3/1/8
http://www.monitoringthefuture.org//pubs/monographs/mtf-overview2012.pdf