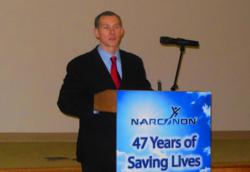 Around the world, we've graduated more than 38,000 students who have learned how to enjoy life without drugs. Narconon Arrowhead has been a leader in both drug rehab and drug prevention and we are proud of their contributions to a saner, safer world
(PRWEB) March 14, 2013
Narconon Arrowhead Participates in Worldwide Celebration of 47 Years Fighting Addiction
On Friday, March 8th, students and staff at Narconon Arrowhead in Oklahoma had even more to celebrate than usual. In addition to the successes of the current students and most recent graduates, Narconon Arrowhead included a celebration of the 47th anniversary of the international Narconon network of drug rehab and prevention programs.
It was in 1966 that the founder of Narconon, William "Willie" Benitez, an inmate in the Arizona State Prison system, made the firm decision to help other addicts recover from addiction by using the humanitarian works of L. Ron Hubbard. Willie had discovered a book on the fundamentals of life and living by Mr. Hubbard and used these basics to overcome his own addiction. He then realized that he could use them to help other inmates recover and so made his resolution to start an inside-the-walls rehab program.
Fast forward 47 years – there are now fifty rehab centers on six continents and another 250 drug education and First Step groups. As the largest center, Narconon Arrowhead near McAlester, Oklahoma serves as the flagship rehab facility and training center. From all over the world, officials interested in learning about the Narconon rehab protocol or individuals intent on opening a new center visit this center to see the program in action.
Friday night is the usual time that staff and students celebrate the progress made by those on the program, but on this occasion they also took the time to note other accomplishments of the Narconon network. A speaker visiting from the international office in Los Angeles told stories about the remarkable benefits of the Narconon First Step Program that is being offered in Mexico. In a country where the largest methamphetamine labs worldwide rob addicts of the ability even to think or speak coherently, the Narconon First Step program enables addicts enrolled in Twelve Step programs to use simple vitamins and therapeutic life skills tools to help one another in the long process of recovery. One recent study found that the Narconon First Step makes it more possible for those in Twelve Step programs to fully engage with the phases of their program and thus more likely to achieve real recovery.
The speaker also praised the Narconon Arrowhead staff for their relentless drug education outreach. Drug education specialist Nico Bain has been touring Oklahoma and neighboring states to lecture to schoolchildren, reaching anywhere from 500 to 1,000 young people in any given week.
Narconon Arrowhead also recently reached a significant milestone of its own with the enrollment of the ten thousandth person to the facility for drug recovery.
Around the world, other Narconon centers also expanded their Friday night events to include a celebration of this anniversary. In Northern California, staff and students at Narconon Vista Bay celebrated their 2,000th graduate. At Narconon Riverbend in Louisiana, the Friday night event included a birthday cake for the network.
"Forty-seven years of drug recovery service is just the beginning," said Clark Carr, president of Narconon International. "Around the world, we've graduated more than 38,000 students who have learned how to enjoy life without drugs. Narconon Arrowhead has been a leader in both drug rehab and drug prevention and we are proud of their contributions to a saner, safer world."
To learn more about the Narconon program or find a Narconon center near you, call 800-775-8750.