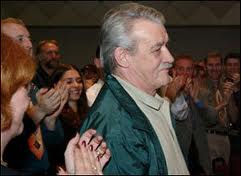 Narconon's 47th anniversary tribute would not be complete without sharing some of the story of its unique founder and my best friend, William Benitez
Clearwater, FL (PRWEB) March 28, 2013
Gordon Weinand, a graduate of the first Narconon drug rehab program delivered in an Arizona state prison in 1966, celebrates Narconon's 47th Anniversary and his 47th year of living drug free.
"Narconon's 47th anniversary tribute would not be complete without sharing some of the story of its unique founder and my best friend, William Benitez," says Weinand
Benitez tells of his struggles to get clean and his search for a successful recovery 47 years ago that is still relevant to the millions who are still searching for answers today. He started smoking pot when he was 13 and went on to injecting opium and other drugs when he was about fifteen.
"… I carried the monkey for about eighteen years, and it cost me thirteen calendar years of being locked up. In addition to doing time in the Marines, I did a Federal prison term and also was convicted three times in Arizona state courts," said Benitez.
"After arriving at prison [the last time], a friend of mine gave me some reading material to keep me occupied while I was in the Orientation Cellblock pending transfer to general population. Among the material was an old, tattered book, Fundamentals of Thought, by L. Ron Hubbard…. I had always been an avid reader of books dealing with human behavior. Yet, this small book impressed me more than anything else I had ever read before. I read it over and over and then purchased additional books by Mr. Hubbard and studied them very carefully during the following year, even into the late hours of the night in my cell," explained Benitez.
"What impressed me the most about [Hubbard's] materials was that they concentrated not only on identifying abilities, but also on methods (practical exercises) by which to develop them. I realized that drug addiction was nothing more than a "disability," resulting when a person ceases to use abilities essential to constructive survival," said Benitz.
Finally realizing he had the essential abilities needed to overcome his own drug problem, Benitez felt on safe ground and knew he had to make the technology available to other addicts in the prison. "I thought back over the years of all the junkies I had shot up with, and remembered their most treasured conversation, 'One of these days I'm going to quit.' That's when I made the decision real by writing it down on my calendar page in my cell," said Benitez.
"So effective was the technology I had learned, that I experienced a freedom long lost to me. The tall prison walls became only temporary barriers. I realized that my 6 x 8 foot cell was all that I needed as a command post [to start the Narconon Program]. Even back then, I knew Narconon would reach international proportions," said Benitez.
On this 47th Anniversary, the non-profit Narconon program has expanded to 40 countries on 6 continent and is delivered in many languages including English, Spanish, Portuguese, Italian, German, French, Danish, Swedish, Finnish, Russian, Nepalese and Taiwanese . Since 1995, more than 34,000 thousand students have graduated the three to four month program.
Anyone struggling with alcohol or drug addiction can find more information by visiting http://www.narcononeastus.org/ or calling 877-27-3307.
About Narconon Eastern US
Narconon Eastern US, headquartered in Clearwater, FL, is a non-profit corporation that helps existing Narconon Centers in the East US, as well as establishing new Narconon Drug Rehab and Drug Prevention Education centers. The Narconon drug rehabilitation and education program was founded in 1966 by William Benitez and uses the drug-free rehabilitation and social education methodology based on research developed by American author and humanitarian L. Ron Hubbard. Narconon is dedicated to eliminating drug abuse and drug addiction through drug prevention, education and rehabilitation. Anyone struggling with alcohol addiction or drug abuse, or looking for a career in substance abuse can visit http://www.narcononeastus.org or call 877-237-3307.