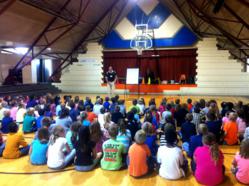 "Each year, we reach hundreds of thousands of students internationally with our drug prevention classes."
(PRWEB) November 01, 2012
Since 1988, the tragic death of a Drug Enforcement Administration agent has been the catalyst for a week-long celebration of freedom from drugs. Agent Enrique "Kiki" Camarena lost his life fighting drug trafficking along the Mexican border so it is fitting that drug prevention activities go into high gear in October of each year to prevent more lives from being lost.
Every year at this time, Narconon® drug prevention specialists fan out into schools within reach of the many US Narconon drug rehab facilities. In Southern California, the Narconon Fresh Start rehab centers sent out trained educators to many schools in Riverside, Los Angeles and San Bernadino counties. More than 6,500 young people were reached with accurate information about drugs and their dangers.
In Michigan, the Narconon Freedom Center also sent out educators and in Northern California, Narconon Vista Bay gave presentations to students in Oakland, Campbell, Saratoga and Sacramento, reaching several hundred students in all.
In Oklahoma, drug educators from Narconon Arrowhead criss-crossed the state, reaching students in nearby Canadian, Fort Towson in the east, Cushing in the middle of the state, Elmore City in the south, and tiny Alex outside of Oklahoma City. In all, more than 1,700 Oklahoma students learned why life is better and safer when it is drug-free.
"When we ask students what they think of drugs, we often find out that no one has ever really explained to these kids what drugs are, what damage they can do and why they should be avoided," stated Bobby Wiggins, longtime drug prevention specialist with Narconon International." So we focus on these points in our drug education classes and work hard to reach as many students as we can each school year."
He referred to statements from two recipients of this year's Red Ribbon Week school presentations. In one, a thirteen-year-old student said: "I thought it was inspirational because he experienced drug addiction himself and he actually knows what people go through. Now if someone were ever to ask me if I want drugs, I would definitely say no."
In another after-presentation survey, a seventh-grader said: "I thought it was very detailed, the way you told us why drugs are bad and how they affect our bodies. I never knew much about drugs till now. The talk changed my thoughts. I never knew there were this many drugs."
Mr. Wiggins added, "Because of comments like these, we realize that we can reduce drug use simply by educating these children well enough that they can make the smart decision to stay drug-free."
A health teacher in Riverside, California also observed the positive effect these classes had on her students. She said, "Your presenter was knowledgeable about every type of drug you could imagine. My students learned the dangers of drugs and the long-term effects. They were intrigued by all the information given to them and many didn't realize how much damage drugs caused to their bodies. The following day, we had a great conversation about what they learned and many say they will never try drugs or alcohol. Thank you for all you do, spreading the word about the dangers of drug and alcohol. It does make an impact on our youth and I know your program has reached me."
"Our work is not done at the end of Red Ribbon Week," concluded Mr. Wiggins. "Each year, we reach hundreds of thousands of students internationally with our drug prevention classes. We continue to fight drug abuse and addiction with prevention and our rehabilitation program all year round."
For more information or to schedule a Drug Education Presentation, please call 323-962-2404.