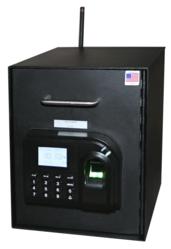 The MedixSafe Biometric M2 is the ambulance trade's most technologicically advanced Triple Access Security Solution
(PRWEB) March 27, 2013
Memphis, TN: International leader In narcotics security adds inventory tracking to long list of customer driven advances for paramedics and EMS providers.
MedixSafe's new security protocol requires paramedics to enter a case or incident number every time the narcotics cabinet is accessed. Additionally, the keypad requires the paramedic to choose which drugs are removed. MedixSafe offers the highest accountability with triple access security, requiring a combination of fingerprint, PIN and Proximity Card for access.
The MedixSafe Biometric M2 is the ambulance trade's most technologically advanced Triple Access Security Solution. The revolutionary M2 is equipped with a stand-alone networkable TCP/IP based controller. Allowing for the absolute highest degree of individual accountability and automated record keeping – M2 assures compliance with new, stricter laws and regulations.
The M2 combines the security and ease of scanning a fingerprint with the power and efficiency of remote network administration – not only enforcing authorized access, but tracing access for unprecedented accountability. Any PC-based computer, with internet access, can be equipped to remotely manage and monitor any number of mobile units. Each unit stores up to 50,000 events and serves up to 1,500 users.
For larger needs the MedixSafe C2 or S2 are also available. Like the MedixSafe M2 Narcotics Cabinet, incorporating fingerprint scanners and PIN pads, the C2 technologies provide the highest degree of individual accountability and automated record keeping in a larger cabinet, ideal for narcotics storage in small pharmacies and clinics. C2 narcotic cabinets are made of heavy gauge steel construction with a durable powder coat finish. Dimensions are 24" tall x 18" wide x 18" deep. The S2 dimensions are 48" high x 40" wide x 29.5" deep.
Inventory tracking is not the same as Inventory control. Inventory tracking does not require inventory to be added or subtracted from quantities stocked. However, it does allow supervisors to see who, (paramedic), when, (time Logged), what (drug used) and where (case number) person drug used on.
For more information about MedixSafe visit medixsafe.com or call toll free 855-MEDIXSAFE