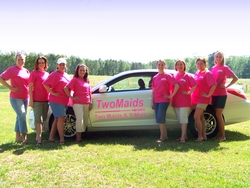 "We really want to make a big splash in Nashville. So we decided to provide the ultimate prize - free maid service forever!"
Nashville, TN (PRWEB) August 24, 2010
Two Maids & A Mop, a local residential cleaning company, is proud to announce that it is now serving the Nashville area. The company plans on providing ten free prizes leading up to the grand opening - with the final grand prize being free maid service for the rest of one lucky homeowner's life.
"We really want to make a big splash in the Nashville market. So we've decided to provide the ultimate prize - free maid service forever", said Ron Holt, owner of Two Maids & A Mop. "We're also giving away many other free prizes during our ten day giveaway such as free maid service for one year, free Tennesee Titans tickets and a free summer getaway to Panama City Beach."
The contest is free to anyone living in the Nashville area. To enter the contest, visit http://www.dirtgobblers.com and you'll learn how to submit your name for the chance to win free maid service for a lifetime.
"Lots of people are getting free gift cards on the first day of the giveaway period. The value of the prize will increase with each passing day", says Ron Holt. "And here's the best part - it's free to enter the contest. The only rule is that you must live in the greater Nashville area."
Two Maids & A Mop has been providing residential cleaning services across the southeast since 2003. The company is expanding into Nashville and it plans on delivering the same quality, hard work and consistency as it currently provides across the southeast.
Two Maids & A Mop will be providing residential cleaning services for homeowners all over Nashville.
For more information on the free giveaway, please visit the grand opening website at http://www.dirtgobblers.com or call (615) 834-7071.
For more information about rates and services provided by Two Maids & A Mop, please call their office at (615) 834-7071 or visit their website at Nashville Cleaning Services.
###