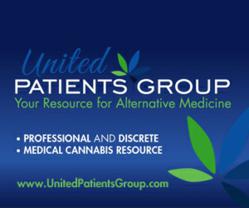 Unfortunately, despite growing scientific proof...the cannabis plant and cannabis-derived products remain Schedule 1 Controlled Substances
San Francisco, CA (PRWEB) March 27, 2013
Each year, an estimated half a million Americans lose their lives to cancer, and three times that many are diagnosed with the devastating illness. Cancer patients are parents and grandparents, children, and cherished loved ones. In observance of National Cancer Control Month, medical marijuana patient resource website UnitedPatientsGroup.com will examine the effectiveness of cannabis-based cancer therapy and how federal laws are denying this therapy to those who need it.
In his 2012 National Cancer Control Month Presidential Proclamation, President Obama said this was a time to "remember those we have lost, support Americans fighting this disease, and recommit to progress toward effective cancer control." He went on to state that America was standing at a critical moment in cancer research that promises significant advances for patients and an accelerated pace of lifesaving discoveries.
"Over the last year, we've seen an abundance of news from the scientific community about naturally-occurring compounds found in cannabis that are effective in controlling tumor growth, killing cancer cells, and even providing protection for healthy cells," said John Malanca, owner of United Patients Group. "That's pretty impressive for an illegal plant."
Cannabis Kills Cancer Cells
Just last week, on March 21, the National Cancer Institute (NCI) published a document stating "cannabinoids may cause anti-tumor effects by various mechanisms, including induction of cell death, inhibition of cell growth, and inhibition of tumor angiogenesis invasion and metastasis."
In the report, the NCI cited a study showing that cannabinoids killed tumor cells but did not affect their non-transformed counterparts, and may have even protected them from cell death. The NCI is part of the National Institutes of Health and the Department of Health and Human Services.
Last October, Pierre Desprez, Ph.D., of the California Pacific Medical Center Research Institute, reported that one particular compound in cannabis, cannabidiol, can stop aggressive brain, prostate, and breast cancer cells from spreading.
"Unfortunately, despite growing scientific proof of medical properties known to marijuana advocates through anecdotal evidence, the cannabis plant and cannabis-derived products remain Schedule 1 Controlled Substances," said Malanca. "That makes marijuana in any form illegal under federal law, so a lot of people—especially the elderly—stay away from medications that could improve their health and quality of life."
Schedule 1 substances are defined as possessing the following characteristics:
A. The drug or other substance has a high potential for abuse.
B. The drug or other substance has no currently accepted medical use in treatment in the United States.
C. There is a lack of accepted safety for use of the drug or other substance under medical supervision.
Malanca, who witnessed four-year-old Cash Hyde beat cancer into remission twice in addition to his father-in-law's recent "NO EVIDENCE OF CANCER" brain scan using cannabis-based medication, says his office is flooded with calls from cancer patients and caregivers all around the world who need advice, encouragement, and compassion. His staff listens empathically and helps refer callers to resources that can help them.
"Every April we observe both National Cancer Control Month and the 420 Cannabis Holiday," said Malanca. "I can't think of a better time for positive change than right now. Hopefully by highlighting research and re-examining the laws that restrict progress, we can bring about change sooner than later."
To learn more about United Patients Group, please call (415) 524-8099 or visit http://www.UnitedPatientsGroup.com. The best way to stay informed about developments is to "like" United Patients Group on Facebook and "follow" Untied Patients Group on Twitter.
About UnitedPatientsGroup.com
UnitedPatientsGroup.com is a discreet, safe, and professional online medical cannabis information resource for prospective and current patients, caregivers, and medicinal cannabis industry professionals.
While most online medical marijuana sites cater to patients already familiar with medical marijuana, the UnitedPatientsGroup.com website is a comprehensive and easy-to-use information source for people of all ages and experience levels, from novice medical cannabis users to experienced industry professionals. The site's News, Resource, and Blog pages introduce new patients to the ins and outs of medical marijuana healthcare, while helping experienced providers stay abreast of the latest developments in CBD therapies.
A complimentary Five Star-rated United Patients Group medical marijuana app is now available on the iTunes app store for iPhone 3GS, iPhone 4, iPhone 4S, iPhone 5, iPod touch (3rd generation), iPod touch (4th generation) and any iPad.