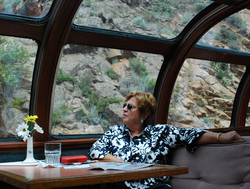 Combining spectacular train routes with 'America's Best Idea,' U.S. National Parks, creates a uniquely American experience. Rich history, awe-inspiring scenery and National Treasures are what people are craving
Chicago, IL (PRWEB) September 29, 2009
Vacations By Rail, the leading seller of independent rail vacations and group train tours around the world expects high demand for United States National Park tours in 2010 and now offers the largest selection of National Park rail vacations available through one source. Vacations By Rail's expanded tour offerings combines the top National Park destinations and sightseeing with legendary rail routes, such as the California Zephyr, Empire Builder, Southwest Chief and Coast Starlight, Private Rail Cars, Amtrak service, cruises, hotels and national park lodges. Among the United States National Parks destinations offered are:
Yellowstone National Park
Grand Teton National Park
Glacier National Park
Grand Canyon National Park
Yosemite National Park
Glacier Bay National Park & Alaska Preserve
Denali National Park & Alaska Preserve
Arches National Park
Bryce Canyon National Park
Canyonlands National Park
Great Smoky Mountain National Park
Mount Rushmore National Memorial
Olympic National Park
Zion National Park
and many more.
"Combining spectacular train routes with 'America's Best Idea,' U.S. National Parks, creates a uniquely American experience. Rich history, awe-inspiring scenery and National Treasures are what people are craving," said Todd Powell, president of Vacations by Rail. "and with Ken Burns' new National Parks documentary, high demand for National Park vacations is sure to be expected."
Due to the expected demand for U.S. National Parks programs, Vacations By Rail is taking advanced reservations on 2010 programs. Those people interested in learning about Vacations By Rail's expanded National Parks vacation options can simply go to Vacations By Rail's website or call 1-877-929-7245 and speak to a rail specialist.
About Vacations by Rail:
Vacations by Rail is the leading seller of rail travel and tours in North America and the trusted authority on rail vacations. Travelers can choose from the largest selection of independent rail vacations, escorted rail tours, luxury rail journeys in North America, Europe and beyond. Vacations by Rail also provides virtually every European rail pass and ticket to meet customers European travel needs. For more information on Vacations by Rail and the company's products, email marketing@vacationsbyrail.com or call 1-877-929-7245.
###