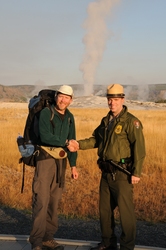 Along the Lewis and Clarke Trail
Yellowstone, WY (PRWEB) October 1, 2008
Bart Smith completed over 37 million steps this morning, plus nearly 100,000 photographs in his 16-year shooting trek of all the National Scenic Trails (NTS). No other person can boast this astounding photo/hiking feat, covering over 16,500 miles and 34 states. To celebrate, Smith flies immediately to Washington, D.C., where he will join the 40th National Trail System Anniversary festivities.
In 1968, President Lyndon Johnson signed the National Trails Act into law stating, "We can and should have an abundance of trails for walking, cycling, and horseback riding in and close to our cities." Forty years later, eight trails have been designated the National Scenic Trails, highlighting the most scenic assets of America.
Following legendary American outdoorsmen like John Muir, Ansel Adams and John James Audubon, Bart Smith champions a contemporary mix of hiking and photography, culture and heritage. His success occurs at the perfect moment, as President Bush calls together a 3-day White House Conference of Wildlife Policy in Reno, Nevada, Oct.1-3. Some are calling this,"The most important wildlife conference in history."
Bart Smith's personal safari began in 1991 after leaving a "good career job" to explore the world for a year. Upon his return, he and wife Bridgie Graham Smith agreed he would hike the notoriously difficult National Coast Trail. In the aftermath, Bart dreamed of completing all the National Scenic Trails. As a result, their mission is dubbed "Walking Down A Dream" and seeks to inspire legions of Americans and tourists alike to explore the diverse natural wonders on the nation's wilderness trails.
Bart and wife Bridgie met while working at a Washington State hospital, and Bridgie's savings from her emergency room nursing financed this entire project. In a global climate of corporate sponsorships, grants and endowments, the couple's tenacity for individuality and freedom is inspirational.
Bart Smith has published four coffee table books of trail photography to date, with another to be released in 2009 called "Along the Lewis and Clarke Trail". His photography has also appeared on the cover of Smithsonian Magazine.
For additional information about this 16-year legacy or the events which follow, please contact Bart Smith or Bridgie Graham Smith at (253) 210-0498 or leave a message at (253) 238-6946.
Links:
Photo gallery: http://www.walkingdownadream.com/gallery.html
Bart Smith's book, "Along the Pacific Crest Trail," at Amazon.com
Website URL: http://www.walkingdownadream.com
Contact address:
Bart & Bridgie Smith
Walking Down A Dream
c/o Crest Photography Inc
4 Westlake Avenue SW
Lakewood, WA 98498
(253) 210-0498
(253) 238-6946 (Messages only)
Email: contact@walkingdownadream.com
###