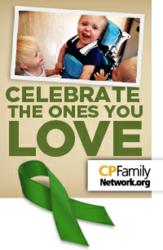 By raising awareness of cerebral palsy, we hope to foster greater understanding, empathy and support for the more than 800,000 Americans living with cerebral palsy.
Austin, TX (PRWEB) March 21, 2013
Families affected by cerebral palsy have an opportunity on Monday, March 25, National Cerebral Palsy Awareness Day, to raise much-needed awareness about CP, dispel misconceptions and encourage giving to CP research.
"People need to know that cerebral palsy is the most common motor disorder of childhood, affecting one in every 303 children born in the U.S.," said Lee Vander Loop, CP Family Network editor and mother of a daughter with cerebral palsy.
"Even so, research funding for CP lags behind other childhood disorders affecting fewer children," she noted. According to a report from the U.S. Department of Health and Human Services, $23 million was spent on cerebral palsy research in 2011. This falls far behind funding for other conditions including autism ($169 million), childhood leukemia ($59 million), and epilepsy ($152 million). In addition, "organizations in many states are facing federal funding cuts that may compromise their ability to serve those with cerebral palsy in their communities," Vander Loop said.
"By raising awareness of cerebral palsy, we hope to foster greater understanding, empathy and support for the more than 800,000 Americans living with CP," she added. "What we hope follows is greater support for research funds aimed at therapies and even ways to prevent or cure this disorder."
Raising Awareness and Funds
One of the simplest ways to show support for Cerebral Palsy Awareness Day is to wear a green ribbon, which is the symbol for cerebral palsy support, Vander Loop nodded. "If somebody asks what the ribbon stands for, you can start a conversation about cerebral palsy and help dispel myths," she said.
For example, some of the more common misperceptions about children with CP are that they are all mentally disabled, cannot learn and are slated to live in institutions. The facts are that CP affects children along a continuum and that with the right therapies, treatment and support, many can live long, productive and independent lives, Vander Loop said.
Another way to support cerebral palsy awareness is to attend a fundraising event, Vander Loop said.
"Finding a fundraising event near you is as simple as doing a quick online search or contacting your local cerebral palsy support organization. For example, Bay City, TX is hosting a walkathon to raise money for Cerebral Palsy Awareness on Saturday, March 23. A central California YMCA is hosting its 1st Annual Cerebral Palsy Awareness Event on Friday, March 29. This is just a small sample of the many fundraisers and community celebrations happening across the country."
Looking Ahead to World Cerebral Palsy Day
Countries around the globe will come together in an even bigger celebration on Wednesday, October 2, 2013, World Cerebral Palsy Day. "Anyone interested in planning a World CP Day event in their community has six months to plan and prepare, plenty of time to put together a great event," said Vander Loop.
"As the mother of a CP child, it means so much to me to know that there is a huge support community not just here in the United States, but around the world. I hope both events continue to grow and bring more attention to research efforts that may someday find a cure," added Vander Loop.
##
Cerebral Palsy Family Network
The Cerebral Palsy Family Network is a 501-C3 non-profit organization whose mission is to provide medical and legal resources to families and children with cerebral palsy. Among the resources it offers parents are the Cerebral Palsy Online Resource Directory, a free searchable database of resources available to CP families in each state and Washington, D.C., and the Care Guide: Medical and Emergency Records, which helps parents organize, update and share information about their child.