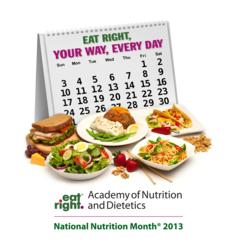 Chicago, IL (PRWEB) March 19, 2013
A carefully planned diet can have a significant impact on managing symptoms and improving health from chronic conditions like hypertension or diabetes. During National Nutrition Month®, the Academy of Nutrition and Dietetics encourages consumers to develop a healthful eating plan that is centered on personal health concerns and "Eat Right, Your Way, Every Day."
"While many people understand the role diet plays in overall health, you can actually prevent and manage specific diseases by eating healthfully, as well," says registered dietitian and Academy spokesperson Angela Lemond.
"For instance, eating heart-healthy foods can help lower high blood pressure, which reduces the risk of both heart attack and stroke. Even if you do not have high blood pressure, eating a heart-healthy diet reduces your chances of heart disease in the future," Lemond says.
"A healthy eating plan that keeps health concerns in mind will also incorporate individual needs including personal nutrient requirements, food preferences, lifestyle and level of physical activity," Lemond says. She offers tips to "Eat Right, Your Way, Every Day" while also preventing and managing some of the most common food-related medical conditions:
Hypertension and Heart Disease

Balance calories with physical activity to manage weight.
Increase the variety of nutrient-rich foods, such as fruits, vegetables, whole grains, fat-free and low-fat dairy products and seafood.
Consume fewer foods with sodium (salt), saturated fats, trans fats, cholesterol, added sugars and refined grains.
Diabetes
"To successfully manage diabetes, you need to understand how foods and nutrition affect your body," says Lemond. "Good health depends on eating a variety of foods that contain the right amounts of carbohydrates, protein and healthy fats, as well as vitamins, minerals, fiber and water."

Eat meals and snacks at regularly scheduled times.
Eat about the same amount of food at each meal or snack.
Choose healthful foods to support a healthy weight and heart including whole-grain breads, cereals, pastas and rice; vegetables and beans; fruits; lean meat, fish, poultry and tofu; low-fat or fat-free milk, cheese and yogurt; and healthy fats like olive oil.
Carbohydrates affect blood sugar more than protein or fat. Keep track of the amount of carbohydrates eaten to ensure blood sugar stays in good control.
Food Allergies and Intolerances
"When foods are cut from your diet, you may be short-changing yourself on important vitamins and minerals," says Lemond. "A registered dietitian can help ensure you get the nutrition you need for your health and lifestyle."

Learn about ingredients in foods. Eggs, wheat, milk and other food allergens often are called by other names. Food companies specify on product labels if any major allergens are contained in the food.
Read labels carefully. Manufacturers might change ingredients of products without notice, so double-check ingredient labels every time you buy a food, even a familiar one.
Talk with day cares, schools and workplaces. Make sure school faculty and staff are aware of children's food allergies and that they know how to respond to adverse reactions children may experience. Similarly, inform coworkers of allergies. Some people are familiar with food allergies and know what to do if a person has a reaction; others may not and will need help in keeping risk for exposure low.
Obesity

Establish a new balance between calories consumed and calories burned through physical activity.
Include fiber-rich foods like fruits, vegetables, beans and whole grains, which offer plenty of vitamins and minerals without plenty of calories while feeling full longer.
Watch portion sizes to help manage calorie intake and cut back on empty calories from added sugars.
"No matter which health concern you have, you need a registered dietitian on your team who will work with you to put together a daily meal plan that takes into account your food preferences, level of physical activity and lifestyle," says Lemond.
Visit the Academy's YouTube channel for a video with tips on eating right with health concerns in mind.
As part of this public education campaign, the Academy's National Nutrition Month website includes a variety of helpful tips, games, promotional tools and nutrition education resources, all designed to spread the message of good nutrition around the "Eat Right, Your Way, Every Day" theme.
###
The Academy of Nutrition and Dietetics (formerly the American Dietetic Association) is the world's largest organization of food and nutrition professionals. The Academy is committed to improving the nation's health and advancing the profession of dietetics through research, education and advocacy. Visit the Academy of Nutrition and Dietetics at http://www.eatright.org.