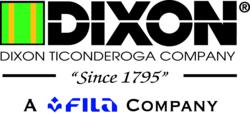 Lake Mary, FL (PRWEB) March 29, 2013
With National Pencil Day (March 30) coming just days before April Fools' Day, the makers of the world's best pencil have come up with a way to celebrate both and have some fun along the way: They want America's best pencil jokes.
Dixon Ticonderoga Co. is collecting the world's funniest jokes about the world's oldest, most reliable writing utensil.
The pencil on its own may not be particular funny. But the odds go way up when you attach a clever person to the one end and paper to the other. Countless scripts, monologues and one liners have been saved for posterity thanks to the pencil — no doubt some involved the ubiquitous Dixon Ticonderoga No. 2.
Need a little help getting started?
Did you hear the one about the broken pencil?
Never mind, it's pointless.
Jokes should be posted on Dixon Ticonderoga's Facebook page.
Dixon wants the jokes to be about graphite, but they should not be graphic, so they need to be kept clean.
National Pencil Day celebrates the day in 1858 when the U.S. Patent and Trademark Office granted Hymen Lipman (no joke) a patent for the pencils we take for granted today — one with the eraser attached.
Posting jokes and photos online may be a far cry from the event that National Pencil Day commemorates, but it shows that the pencil remains an essential tool to express creativity, expand knowledge and maybe even get a few laughs. And in a world where pencil sales increased simultaneously as the popularity of tablets increased, Dixon may have the last laugh after all. Dixon Ticonderoga reports an increase of 18.82 percent in pencil sales in 2012.
About Dixon Ticonderoga Company
Dixon Ticonderoga Co. manufactures and markets a wide range of writing instruments, art materials and office supplies under the Ticonderoga, Prang, Dixon, Oriole, Das and Lyra brands. Headquartered in Heathrow, Fla., the company is a subsidiary of Milan-based Fabbrica Italiana Lapis ed Affini S.p.A. (FILA). For more information, visit http://www.DixonUSA.com.