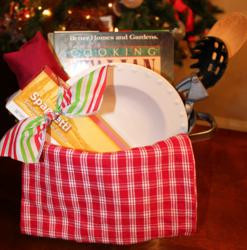 Thrift Town's not your tame little vintage boutique — it's a massive beast of a thrift store, with a huge selection and dizzyingly low prices. SF Bay Guardian
Roseville, CA (PRWEB) December 15, 2011
What's slightly used and green all over? A regift of course. With December 15th being National Regifting Day, Thrift Town wanted to help spread the joy of giving the gift of thrift this holiday season by providing some fabulous regifting best practices and regifting ideas pulled directly from their award winning stores.
According to the creators of National Regifting Day more than 60% of the population views regifting as socially and economically acceptable. In this economy everyone wants to save some green during the holidays, and regifting is a great way to do so, as long as some basic ground rules are adhered to. Now before that freaky gnome statue that appears to be watching your every move gets wrapped up and brought to the office gift exchange party, be sure to consider the following:
1. Only items in good condition should be considered for regifting.
2. Be sure that the recipient will appreciate the item.
3. Successful regifters use common sense…do not regift the item to the original giver, or in front of the original giver! To avoid that completely, go to Thrift Town, where there's over 15,000 square feet of unique and amazing regifts to choose from!
4. Dress up your regift with a great wrap job!
5. Own it! Shout from the mountain tops you are environmentally responsible and that this is a green gift by printing out a free and stylish green gift tag on Thrift Town's Thriftmas webpage.
To help inspire regifting creativity from hysterical gag gifts to beautiful gift baskets, Thrift Town has created a video highlighting quick, easy, unique, and inexpensive regifting ideas for price points ranging from as low as $0.69 up to $18, along with some great photo ideas. Plus in true Thriftmas spirit, Thrift Town is celebrating National Regifting Day by having a 30% off everything sale, all day long, on Friday, December 16th. Merry Thriftmas to one and all!
Thrift Town does its best to help consumers have successful shopping experiences in their award winning stores by ensuring facilities are clean, bright, and organized, making them the premier thrift store destination. Thrift Town has 15 store locations, in four western states, and puts out 4,000 new items each day. There are so many treasures just waiting to be found! "Thrift Town's not your tame little vintage boutique — it's a massive beast of a thrift store, with a huge selection and dizzyingly low prices." SF Bay Guardian
Thrift Town lives its vision statement of being committed to making a difference every day, raising nearly $85 million dollars for their charity partners by purchasing goods from their charity's household recycling programs. Thrift Town is owned and operated by Norquist Salvage Corporation, which has spend nearly four decades dedicated to socially responsible recycling.
###