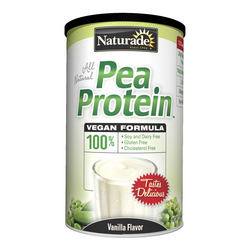 Pea Protein is a natural plant-based protein that is derived from yellow peas (Pisum sativum), also known as split peas.
Orange, CA (PRWEB) January 11, 2011
Naturade®, a leading brand in the natural products channel for more than 84 years, is proud to announce the introduction of Naturade Pea Protein™, a new vegan formula that provides all the benefits of pea protein in a delicious vanilla shake.
Pea Protein is a natural plant-based protein that is derived from yellow peas (Pisum sativum), also known as "split peas." Naturade Pea Protein™ is all natural and contains no animal by-products, no artificial flavors, no artificial sweeteners and no artificial colors. It uses non-GMO pea protein that is 100% gluten-free, cholesterol-free, soy-free and dairy-free.
"This product is highly soluble, easy to digest, hypoallergenic – and it tastes great! Naturade Pea Protein™ is formulated using only the highest quality pea protein isolate available. Its phenomenal amino acid profile includes nine essential amino acids. Since these essential amino acids cannot be synthesized by the human body, they must be supplied by our diets. Amino acids are the building blocks of proteins and are used by our bodies to support our bones, muscles and connective tissues. Each great tasting vanilla shake provides an excellent source of vegetable-based protein and is suitable for low-carbohydrate dieters, vegetarians, vegans, children, athletes and anyone looking to add some extra protein to their diet." says Rick Robinette, the CEO of Naturade.
Naturade Pea Protein™ is available in a 15.66oz canister (12 servings) that will initially be distributed through health and natural food stores nationwide. Suggested retail price is $18.75.
Headquartered in Orange, CA, Naturade is well-known for its commitment to improving the health and well-being of consumers with innovative, natural products since 1926. The company focuses on building consumer-recognizable brands backed by strong science and making them widely available through health food stores, natural supermarkets and retail channels throughout the U.S.
For more information about Naturade and other great tasting protein boosters, contact Naturade at 800.421.1830 or visit http://www.naturade.com. Naturade news can also be found on Twitter at twitter.com/naturade.
###