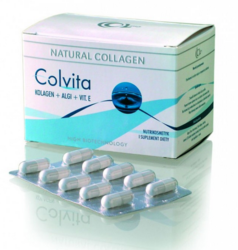 (PRWEB) March 01, 2013
Naturel Collagen Canada, a skincare product provider that offers a line of cutting-edge, anti-aging creams and natural skin care products, is now carrying Colvita supplement.
Colvita is an oral supplement with pure and natural collagen derived from fish skins, which contains freeze-dried pure fish tropocollagen, algae extract, and vitamin E.
The supplements are made by a process called lyophilization, or the freezing of pure natural collagen to temperatures near minus 40 degrees Celsius to maximize potency.
A recent testimony from a well-known and experienced trainer, Hovig Tchaderian, shares that, "After only taking Colvita for a short period of time (just over three months), my joints already feel better than they did 10 years ago and it is as if all the years of impact and training on my joints have just been erased," says Tchaderian. "I can feel that my joints have started to replenish themselves and there seems to be a cushion in and around them. It is a wonderful feeling – so needless to say I will continue using the product in the future."
Colvita is a result of sensational invention by a group of Polish scientists in Inventia Polish Technologies Laboratory. Colvita helps to firm, moisturize, smooth the skin, as well as enhance the growth of new skin cells for a younger, fresh-faced look. By taking the supplement Colvita on a regular bases it has shown decrease of the visibility of wrinkles, regeneration of connective tissues, cartilage and bone tissues, improvement in eyesight and hair and as well as loss of weight. Colvita also serves as a supplier of amino acids that the daily diet is not able to provide.
For consumers interested in purchasing Colvita can visit Naturel Collagen Canada refer to (http://naturelcollagen.com/index.php?route=product/category&path=59_63). The supplement costs $84.00 for one month's supply and $144.00 for two months' supply plus shipping and handling, and takes approximately 6 business days to ship after an order is placed.
It is recommended to take two capsules a day with water and food. Naturel Collagen Canada also suggests using the product with the use of natural collagen gel on the skin. Consumers should start seeing significant results after about three – six months of use.
Consuming Colvita is a step towards the most advanced methods of taking care of beauty and health.
About Naturel Collagen Canada
Naturel Collagen Canada is based in Thornhill, Ontario and is a distributor of natural collagen, natural collagen Skin care products and natural collagen supplement. The products carry all the cosmetics natural health product certifications and are produced in a European Union country.
For more information, please contact:
Jacqui Dunal
Naturel Collagen Canada
Jacqui(at)naturelcollagen(dot)com
http://www.naturelcollagen.com