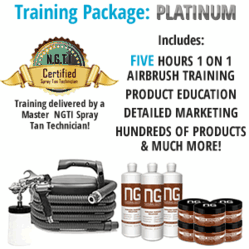 Spray tanning certification for technicians is an important part of running a successful salon or mobile sunless tanning business.
Austin, TX (PRWEB) March 29, 2013
This week, Natural Glow Sunless Tanning Products, based in Austin, released on their website a new instructional video on how to conduct a professional spray tanning session. The video gives a special behind-the-scenes look at how a Natural Glow certified airbrush tanning technician delivers a 100% perfect spray tan to a client.
"Spray tanning certification for technicians is an important part of running a successful salon or mobile sunless tanning business," comments Jeff Ellis, Natural Glow's CEO. "In fact, the Natural Glow Training Institute (NGTI) is a major part of what we do. Current and potential new salon owners and mobile operators want professional training and certification. We have produced this video as part of our arsenal of airbrush certification and training tools."
The video covers a variety of topics beginning with the preparations a spray tanning customer should do before the tanning solution is applied, how to have a client stand, how to prevent specific body parts from being spray tanned and details why a spray tan fades and what can be done about it.
Natural Glow offers a range of products and packages that lead to certification for salons and operators.
From the inexpensive "How to Perform an Airbrush Tan" manual and individual certification by NGTI to full scale Silver, Gold and Platinum Spray Tanning Business Training Packages.
NGTI individual certification for $200 consists of:

One hour of one-on-one training
Spray tanning training manual included
All training delivered in a professional salon environment
Spray tan application tips
Spray tan preparations
How to give a full body spray tan application
How to contour the abdominal area and more
Overview on spray tanning maintenance
Overview on spray tan products and equipment
Spray tan certification diploma
At the maximum end, a $3,495 Platinum Spray Tanning Business Training Package, along with substantial marketing and product education components, includes:
Five (5) hours of one-on-one training with a Master NGTI Airbrush Technician
Training includes up to three staff members
The art of spraying the feet and hands and enhancing muscle definition
Airbrush tanning model provided
How to avoid common beginner spraying errors
How to fix mistakes made by other salons
Up to three framed NGTI Certificate of Achievement diplomas
Maximist Pro spray tanning unit
10 gallons of airbrush tanning solution
25% off your first product order
Training manual to take home with you
100 Rack cards
(4) Natural Glow Barrier Cream
(12) Natural Glow Tan Extender
(12) Natural Glow Tan Extender w/ Bronzers
(12) Natural Glow Sea Salt Scrub
(12) Natural Glow Mini Shower Exfoliators
"Natural Glow wants to help our customers achieve success in the sunless tanning business. This new video is just the tip of the iceberg of professional certification and shows the skills a real pro needs."
"Our certification program is a must do for anyone who is just getting into the sunless business or for anyone who is looking to perfect and refine their technique or skill set. Individuals who attend will find themselves more prepared for the situations and complexities that may arise during the process of performing a full body spray tan on an actual client. Having this certification is a symbol of knowledge and professionalism, two things that will set them apart from their competitors in today's market. The message is "get certified," concludes Ellis.
About Natural Glow
Natural Glow is run by dedicated professionals who've been in the business for over 19 years and who understand tanning like no one else. The Natural Glow product line features a wide variety of sunless tanning solutions to accommodate any skin type and are certified cruelty-free and vegan by PETA—People for the Ethical Treatment of Animals. They provide a range of sunless tanning equipment as well as comprehensive one-on-one training for certification for sunless tanning salon staff.