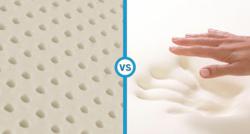 New York, NY (PRWEB) March 29, 2013
At first look, it can be easy to conclude that memory foam and latex mattresses are similar, as they both appear to be made of foam. However, the latest article from blog BestMattress-Reviews.org shows that the two materials actually possess several differences.
Titled "What's The Difference Between Natural Latex Mattresses and Memory Foam?," the article identifies the specific factors that set the beds apart. Best Mattress Reviews created the article as an educational resource for first time shoppers who often confront the same question when comparing mattresses.
Specifically, the comparison reflects the differences between 100% natural latex and traditional memory foam. The in-depth analysis looks at a range of factors, from composition to odors to offer insight to those looking to see which best fits their needs.
One of the biggest differences is in the makeup of the material itself. Where 100% natural latex mattresses contain natural latex liquid and little else, memory foam is a petroleum-based product and can contain many chemicals. This also plays into the odor issue, from which memory foam tends receive complaints from sensitive individuals.
Construction of the two mattresses are shown to differ in that a natural latex mattress contains solid latex throughout, where memory foam rests atop a support core. Breathability disparities and response time also play a part in the discussion, since latex is a temperature neutral, fast-response foam where traditional memory foam is temperature sensitive and has a slow-response time.
The blog addresses similarities as well, specifically citing how both types offer similar benefits compared to innerspring beds. These include reduced pressure on the sleeper, support for proper alignment, resistance to allergens, and durability.
To illustrate the points presented, Best Mattress Reviews compares two mattresses, one from each category. The latex representative is Astrabeds' Serenity Bed, a 100% natural Talalay latex mattress. The Contour Select bed from Tempur-pedic serves as the memory foam contender. The two models offer a comparison consistent with the differences in the article though owner reviews on the manufacturer websites show 16% higher consumer ratings on the latex.
The blog closes by highlighting the fact that both memory foam and natural latex mattresses tend to receive the highest ratings of all types. BestMattress-Reviews.org also reminds readers that brands will differ and that the determination of which type is best comes down to individuals' preferences.
BestMattress-Reviews.org is a bed blog dedicated to providing mattress and sleep product information. On the blog, independent industry professionals provide expert opinions and recommendations backed by research and customer reviews. The website aims to make the buying and research process a little simpler by collecting and analyzing information in a digestible, enjoyable format.