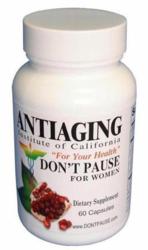 Beverly Hills, CA (PRWEB) March 19, 2013
Menopause symptoms can often begin in a woman's 40s, and although menopause itself is a very normal, natural process, the symptoms can vary widely and range from mild to quite severe. These symptoms are generally caused directly or indirectly by the wildly fluctuating hormone levels that accompany the cessation of ovulation. The menopausal transition, or perimenopause, often begins a year or more before the final period. Once a full year has passed since the final period, a woman is considered to be menopausal or post-menopausal. Dr. Shored Ershadi now discusses menopause symptoms and the natural menopause cure options women have for relieving them.
Women may notice changes in their periods first. Their periods may not be regular, they may become lighter or heavier or they may include spotting between periods. Hot flashes, night sweats and cold flashes are also common. Bladder incontinence, vaginal dryness, sleep disruptions, depression, irritability and mood changes are common menopause symptoms that can affect women socially and physically. A natural menopause treatment product can help alleviate these symptoms and restore a healthier, more youthful hormonal balance as women are easing into the transition between their fertile years and menopause.
A menopause natural remedy such as DON'T PAUSE may include pomegranate, which is a powerful antioxidant, and green tea extract, which can help boost energy levels and reduce the incidence of hot flashes. Natural products may also include other plant-based ingredients that can help regulate hormone levels. Black cohosh, which can alleviate depression, mood swings and vaginal irritation, and soy isoflavones, which can relieve vaginal dryness and reduce hot flashes, are two great examples of this. DHEA may be able to help women rediscover their sex lives while chromium picolinate may be able to boost metabolism and reduce the risk of weight gain.
Women may also be able to achieve menopause natural relief by making lifestyle changes. Quitting smoking and limiting consumption of caffeine and alcohol can be good ways to reduce some of the most common menopause symptoms, such as hot flashes and night sweats. A healthy diet and regular exercise can keep women's waistlines trimmer. Increased intake of vitamin D and calcium can strengthen bones.
Contact
Dr. Shoreh Ershadi, Pharm.D., Ph.D., NRCC, NRCT, ASCP
ANTIAGING Institute of California
Phone: (800) 370-4080
Website: http://www.menopauseguide.com