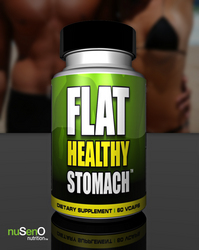 West Palm Beach, FL (PRWEB) December 10, 2008
After years of extensive research and clinical studies, Flat Healthy Stomach™ is now available on the Web just in time for the holidays. Lose belly fat and give yourself a natural energy boost with Flat Healthy Stomach™. The proprietary blend of green tea and aloe vera has been scientifically formulated to produce the most desirable weight loss and energy-enhancing results without harmful side effects or unnecessary mood swings.
The benefits of aloe vera and green tea have now been combined into one, easy-to-swallow capsule. Free of allergy-causing substances, this unique formula aids in digestion and promotes natural weight loss. The catechens in green tea have been proven to stimulate fat loss, while aloe vera is credited for balancing stomach acid and stimulating bowel movements.
These two effective ingredients synergistically work together as a natural energy supplement that aids in weight loss. Unlike most products on the market today, this natural weight loss supplement does not contain artificial stimulants or added caffeine. Encapsulated in Vcaps™, an all-natural Vegetarian Society approved, Kosher-certified substance, you can safely consume Flat Healthy Stomach™ without unwanted chemicals and ingredients.
The best part about Flat Healthy Stomach™ is the unconditional money-back guarantee. If you are not 100% satisfied with this natural weight loss supplement, simply return the unused portion of Flat Healthy Stomach™ for a refund.
Get yourself in shape for the holidays--learn more about Flat Healthy Stomach™, natural weight loss supplements, how to lose belly fat, natural energy supplements, and more.
Visit the nuSenO nutrition website at: http://www.flathealthystomach.com.
Press Release writing by WebSiteText.com
Proofreading and Editing by The Proofreaders
###