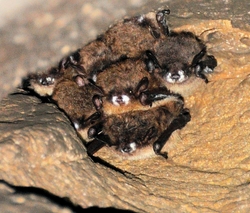 White-nose syndrome is a devastating disease that is hitting bats fast and hard
Nashville, TN (Vocus) November 22, 2010
The bats that eat millions of mosquitoes in American backyards every summer could be driven to extinction by a mysterious illness that's spreading across the country, and Nature Conservancy cave expert Cory Holliday hopes he can help save them by building a better bat cave.
Holliday and The Nature Conservancy in Tennessee are in the running for a $250,000 grant from Pepsi Refresh, an online competition that invites people to vote for the best new ideas for improving the world, with a proposal to build an artificial bat cave in which bats will hibernate naturally while researchers test new treatments on them for white-nose syndrome, an ailment that's decimating bat populations. Anyone can vote for the idea through Nov. 30 at http://www.refresheverything.com/saveamericasbats.
"White-nose syndrome is a devastating disease that is hitting bats fast and hard," said Cory Holliday, cave and karst program director for The Nature Conservancy in Tennessee. "Our idea has been endorsed by the U.S. Fish and Wildlife Service, our state wildlife agency and bat experts as having real potential to make a difference in this epidemic."
White-nose syndrome started appearing in Eastern U.S. bat caves in 2006. Since then, ill bats have been verified in at least 12 states and two Canadian provinces, including the first reports of WNS in Tennessee last winter.
Nationwide, more than a million bats have died, and the mortality rate over a single year in some caves exceeds 90 percent. Scientists still lack definitive answers about the syndrome's cause, but have discovered that affected bats tend to grow a powdery white fungus on their faces, hence the name white-nose syndrome. Without an answer soon, several species, including the federally endangered gray bat, could be lost forever, Holliday said.
Bats suffering from white-nose syndrome awaken from their winter hibernation, fly out searching for food that simply isn't available during the dormant season – a single small bat can easily eat 1,200 insects in one night – and ultimately, die of starvation. A bat that's flying in the winter, particularly during daylight hours, is likely ill and should be reported to local wildlife officials or to federal researchers at WhiteNoseBats(at)fws(dot)gov.
Several antifungal substances have promise as WNS treatments, but transporting ill bats to a lab is difficult, and treating bats in a natural setting poses risk to other cave dwelling species and local water supplies, explained Gary McCracken, a professor of ecology and evolutionary biology at the University of Tennessee in Knoxville.
"An artificial cave would be the best of all possible worlds," McCracken said. "It would give us a field situation similar to a natural cave, but where we could control all of the variables, as you would in a lab. There's nothing like an experiment in a natural setting to learn what does and doesn't work."
The experimental cave in Tennessee could serve as a model for other bat populations at risk from WNS, and the strategies developed there could be applied elsewhere to save millions of bats throughout the Eastern United States, Holliday said.
"This is the first idea we've come upon that offers bats a real chance at survival without killing the other organisms that call caves home," he said.
For more information:

Vote for the idea online or text your vote directly by sending the message "104201" to Pepsi at 773774. An individual can vote once each day through November 30.
Read more about the Tennessee artificial bat cave.
Watch Cory Holliday explain the idea in a YouTube video.
White-nose syndrome has been documented in the following states and provinces, according to the US Fish and Wildlife Service:
Vermont
Maryland
Ontario
New Hampshire
Delaware
Quebec
Connecticut
Pennsylvania
Missouri*
Massachusetts
New Jersey
Oklahoma*
New York
West Virginia
Virginia
Tennessee
*Fungus has been observed, but scientists are still working to confirm the presence of WNS illness in local bat populations.
The Nature Conservancy is the leading conservation organization working around the world to protect ecologically important lands and waters for nature and people. To date, the Conservancy and its more than one million members have been responsible for the protection of more than 18 million acres in the United States and have helped preserve more than 117 million acres in Latin America, the Caribbean, Asia and the Pacific. Visit The Nature Conservancy on the web at http://www.nature.org/.
###