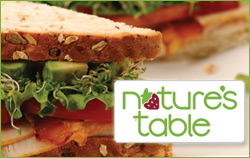 We operate and develop corporate restaurants because the model works. We're not just a franchisor, we are operators too.
Orlando, FL (PRWEB) May 24, 2011
Nature's Table Café is continuing its nationwide growth with the opening of a new corporate restaurant, and the signing of two new franchise deals.
The company has signed two new franchise agreements for restaurants in Orange County, California and in South Carolina. A new corporately owned location will also be opening soon in Maitland, Florida. Founded in 1977, Nature's Table is a pioneer in health-conscious dining, with more than 75 restaurants open in 10 states.
The new corporately owned restaurant will be housed at Orlando's newest Class A Office Building, the FIS Office Building in Maitland, FL. This Nature's Table Café will be the fourth corporately owned location for the chain. FIS is part of the S&P 500, and has also been named the number one overall financial technology provider in the world by American Banker and Financial Insights (FinTech 100). This Nature's Table Café location will serve over 2,500 total guests on the business campus, including 900 FIS employees. Nature's Table has found a successful niche with their office building restaurant prototype. "As we grow the Nature's Table concept around the country, our key strength is the flexibility of our restaurant prototype and opportunity for conversions. These new corporate locations will showcase our ability to convert existing spaces and thrive in non-traditional locations. Our office building prototype especially has attracted multi-unit developers who are looking to saturate a market with both traditional, fast casual locations and non-traditional sites," said company founder and CEO Dick Larsen.
Larsen went on, noting "Nature's Table Cafe is a concept with strong fundamentals, including a low start up cost and strong unit economics. The proof is in the pudding. We operate and develop corporate restaurants because the model works. We're not just a franchisor, we are operators too."
In addition to the new corporate restaurant, Nature's Table has also signed agreements for two new franchised locations.
New franchisee Paul Lau, an experienced restaurant entrepreneur, has bought the rights to open a Nature's Table Café in Orange County, California. Lau is currently evaluating real estate opportunities. Said Lau, "I owned two independent Chinese food restaurants for over twenty years. My businesses were profitable, and allowed me to retire early, but my quality of life was sacrificed by working fifteen-hour days. I'm ready to get back into the restaurant business, but this time, I was looking for a health-conscious concept that would be simple to operate. Nature's Table Café is the perfect fit!"
Lau's Orange County restaurant will be the second California location for Nature's Table Café. The brand currently operates a corporate owned, office building prototype restaurant at the AT&T Cellular building in Cerritos, California.
Plans for a Nature's Table Café in either North or South Carolina are also underway for new franchisee Christina Long. Long, a real estate professional, will be evaluating prime real estate opportunities in both states. Long had this to say, "Nature's Table offers a premium, fresh dining experience for customers on-the-go. I'm thrilled to open my first restaurant. After attending my Nature's Table Discovery Day, I knew I had found the perfect opportunity."
About Nature's Table
Nature's Table, a family-owned company founded over 30 years ago in Orlando, Florida, offers an array of quick and nutritious options including signature sandwiches served on several types of bread, gourmet wraps, specialty salads, soups, nutritional smoothies, natural fruits, coffees, breakfast offerings, desserts and snacks in a modern and inviting atmosphere, as well as a full catering program. The concept has found success in both traditional and non-traditional venues including Atlanta International Airport, Orlando International Airport, T-Mobile and AT&T Wireless office buildings, turnpike plazas, health clubs, hospitals, college campuses and malls. The company prides itself on offering delicious and sensible meals in a simple to operate, fast casual format. There are more than 75 restaurants currently open in 10 states with more expansion on the horizon. Nature's Table appeals to a broad demographic and provides healthful, fresh and reasonably priced dining options for today's fast paced lifestyles. Nature's Table Café is currently expanding worldwide, and is targeting both multi-unit and master franchisees to develop territories across the United States and in select international markets.
Visit us online to learn more about the fast casual Nature's Table Cafe franchise opportunity, visit or call Fransmart at (949) 222-5600
http://fransmart.com/index.php/natures-table.html
# # #