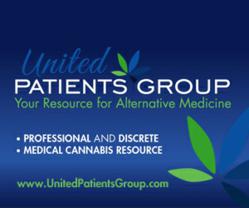 We're dedicated to bringing awareness and education to patients who are in search of natural alternatives to traditional medical treatments
San Francisco, CA (PRWEB) March 30, 2013
Patients looking for guidance about alternative medicine to treat pain and other symptoms related to a range of ailments now have access to the information they need to make informed decisions. UnitedPatientsGroup.com, the trusted resource for alternative medicine and medical marijuana, introduced its new Naturopathic Medicine page today as a comprehensive guide to natural therapeutics.
Conveniently housed in one online location, the new Naturopathic Medicine page includes information regarding naturopathic doctors, therapies and remedies categorized by ailment. For example, patients with breast cancer can see what naturopathic nutrition, lifestyle and supplemental remedies are available for them all on one page.
"We're dedicated to bringing awareness and education to patients who are in search of natural alternatives to traditional medical treatments," said John Malanca, founder and owner of United Patients Group. "This new page will allow us to delve even further into this much needed education."
The Naturopathic Medicine page covers natural remedies for ailments ranging from seasonal blues and flu season to prostate cancer and HPV. Each ailment's own separate page goes further into detail about causes and suggested natural remedies.
Patients suffering from migraine headaches can see what triggers the effects of this debilitating condition, what foods to avoid, what a sample treatment plan would look like if they visited a naturopathic doctor and other useful information.
From another angle, patients interested in finding out more about therapies like ultraviolet blood irradiation (UBI) can see comprehensive information about the procedure and its benefits at the click of a button.
The information contained in the Naturopathic Medicine section has been carefully selected from professional sources to ensure the highest level of quality and benefit of patients.
UnitedPatientsGroup.com has several ties to the medical community and seeks to highlight the newest discoveries within the alternative medicine industry in addition to proven clinical methods.
For more information about United Patients Group and the new Naturopathic Medicine section, call (415) 524-8099 or visit UnitedPatientsGroup.com.
The best way to stay informed about developments is to "like" United Patients Group on Facebook and "follow" Untied Patients Group on Twitter.
About UnitedPatientsGroup.com
UnitedPatientsGroup.com is a discreet, safe, and professional online medical cannabis information resource for prospective and current patients, caregivers, and medicinal cannabis industry professionals.
While most online medical marijuana sites cater to patients already familiar with medical marijuana, the UnitedPatientsGroup.com website is a comprehensive and easy-to-use information source for people of all ages and experience levels, from novice medical cannabis users to experienced industry professionals. The site's News, Resource, and Blog pages introduce new patients to the ins and outs of medical marijuana healthcare, while helping experienced providers stay abreast of the latest developments in CBD therapies.
A complimentary Five Star-rated United Patients Group medical marijuana app is now available on the iTunes app store for iPhone 3GS, iPhone 4, iPhone 4S, iPhone 5, iPod touch (3rd generation), iPod touch (4th generation) and any iPad.