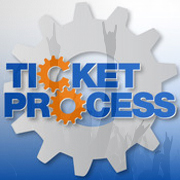 Visit TicketProcess.com to get your NBA tickets before the ball is tipped on another great year.
(PRWEB) August 07, 2012
The NBA schedule for the upcoming season was recently released, and Ticket Process guarantees to make sure that their thousands of regular customers have immediate access to high quality NBA tickets at incredible prices. No other online ticket exchange has the reputation, following or impeccable customer service that TicketProcess.com offers. Simply put, anyone that wants to get their hands on an NBA ticket or NCAA basketball tickets will be very well taken care of.
Basketball fans all over the world watched as the Miami Heat ran over the Oklahoma Thunder en route to LeBron James' first championship ring. The energy in the 2012 NBA Playoffs was as high as it's been since the 1980s, and each arena seemed to be competing with the others to show that they were indeed the loudest and most passionate fans. Basketball tickets for the upcoming season are already available at TicketProcess.com, and the 82-game schedule is likely to be one of the most competitive ever. The best time to get in on NBA tickets is before the season begins, and TicketProcees.com is giving people all over the globe a chance to secure their basketball tickets right now.
The Heat added experience and skill to a roster already known for both by signing sharpshooter Ray Allen. After an NBA Finals where the Heat set and approached all-time records for three pointers and three point percentage, few expected them to go out and add the single best shooter in the game. Several other Eastern Conference teams we be retooling and gearing up to dethrone the champs, including the Chicago Bulls and the New York Knicks. The Philadelphia 76ers raised a lot of eyebrows last year with their run through the playoffs, and they appear to be just one or two players away from title contention.
The Western Conference has long been regarded as deeper in talent than the Eastern Conference, and the Los Angeles Lakers have always been chalk full of superstars. The City of angels is abuzz in the wake of legendary point guard Steve Nash's arrival, and the Lakers are already being mentioned in the title picture. The Lakers are also a team of veterans with an average age substantially higher than most teams, but a mixture of wise and skilled veterans seems to be a proper recipe for a title. Youth, it seems, ultimately did the Oklahoma Thunder in last year, but this year's team will certainly be better off as a result of the experience. Visit TicketProcess.com to get your NBA tickets before the ball is tipped on another great year. Look for sales on NCCA Basketball tickets & Boston Celtics Tickets.