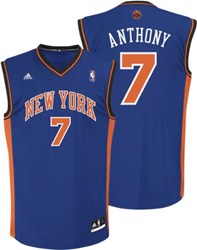 New York, NY (PRWEB) May 18, 2013
The top NBA apparel for the New York Knicks and the newly formed Brooklyn Nets is now available at SportsFanPlayground.com, the newest home for top NBA merchandise on the internet.
For the Knick fans, last season was a season of hope and a season that showed the rise of superstar Carmelo Anthony to not only an elite superstar level, but clutch at the same time. NBAInside.com has the authentic and collectible Anthony jerseys available, along with teammate and fellow superstar Amare Stoudamire, and developing center Tyson Chandler, the NBA's Defensive Player Of The Year. The store also has hats, backpacks, jackets and classic Knicks apparel from legends such as Patrick Ewing, John Starks, and Walt Frazier.
Since the Brooklyn Dodgers left the New York suburb over a half century ago, the city of Brooklyn has not seen a professional sports franchise, until Russian Billionaire Mikhail Prokhorov and hip-hop superstar and media mogul Jay-Z bought the then-New Jersey Nets and promised to move the team to Brooklyn, New York. The 2012 season will the first for the team in the new Barclays Center in Brooklyn and SportsFanPlayground.com has top of the line Nets apparel available including star players jerseys such as Deron Williams, Joe Johnson and Brook Lopez, and various items that show off the new logo and style of the new look Nets franchise.
SportsFanPlayground.com also has deals on various Apple, Xbox 360, Sony and Cisco products. Currently, the store has the Playstation Vita Wi-Fi edition for $234.99, while supplies last. The system is Sony's latest entry intro the handheld gaming industry. The system features HD gaming, the ability to download media from the Playstation store and more.
For more information, visit SportsFanPlayground.com.
On Social Media -
Facebook - Facebook.com/sportsfanplayground
Twitter - Twitter.com/sportsfanplay
Sports Fan Playground on Google Plus
Pinterest - Pinterest.com/fanplayground
Sports Fan Playground on Wordpress
Sports Fan Playground Official Blog
About SportsFanPlayground.com -
SportsFanPlayground.com is a leading provider of NBA merchandise including jerseys, hats, t-shirts and other various merchandise, and is a leading online e-commerce provider of electronics which range from tablets, PCs and cameras to video games, DVDs, Blu-Ray Discs, appliances, lawn and garden products and more.
The store also carries the top brands in electronics and apparel including, Nike, Adidas, Apple, Sony, Samsung, Microsoft, EA Sports, and many more. The company recently began its initial expansion into clothing and jewelry and will continue to expand over the next several months.