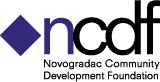 Truly representative of some of the best the industry has to offer, the NCDF's award winners and honorable mentions are testaments to the strength and caliber of all involved in the New Markets Tax Credit program
San Francisco, Calif. (PRWEB) October 20, 2011
The Novogradac Community Development Foundation (NCDF) today honored the winners of its fourth annual Community Developments Awards at a ceremony held in Chicago, Ill. The award presentations were made before a large audience of community development professionals attending Novogradac & Company LLP's New Markets Tax Credit Investors Conference in Chicago.
"Truly representative of some of the best the industry has to offer, the NCDF's award winners and honorable mentions are testaments to the strength and caliber of all involved in the New Markets Tax Credit program," says Michael J. Novogradac, managing partner of Novogradac & Company LLP. "From such examples the industry can grow in vitality and impact and, consequently, our nation's neediest communities can begin to thrive. I congratulate this year's winners and invite all with a deserving project to enter next year."
The NCDF's awards recognize the contributions of individuals at the federal, state and local levels who have had a particularly strong impact on the field of community development, as well as honor community development entities (CDEs) that have made exceptional community development investments in small businesses, operating businesses, real estate, and metro and non-metro areas.
Winners of the individual awards have assisted substantially in the advancement of community development, policy agenda and legislative priorities. The recipients are:

Bob Buckhorn, Mayor, Tampa, Fla., 2011 Public Executive of the Year
State Representative Emily Cain, D-Maine, 2011 State Legislator of the Year
U.S. Representative Jim Gerlach, R-Pa., 2011 Federal Legislator of the Year
The winning CDEs were chosen for their well-executed vision, measurable community impact and commitment to establishing positive change by bringing more people and places into the economic mainstream. Winners and honorable mentions were recognized in five categories. The winning projects and their supporting CDEs are:
Metro QLICI of the Year:

Children's Institute Otis Booth Campus Facility, Los Angeles, Calif.
TELACU/New Markets Community Capital LLC
Honorable Mention

Jazz @ Walter Circle Mixed-Use Senior Housing Development, St. Louis, Mo.
Hampton Roads Ventures LLC
Non-Metro QLICI of the Year

Mid America Brick, Mexico, Mo.
Advantage Capital Partners
Honorable Mention

Rockyford Elementary School, Porcupine, S.D.
Citibank NMTC Corporation and Dakotas America
Operating Business QLICI of the Year

Stinger Welding, Libby, Mont.
Montana Community Development Corporation
Honorable Mention

Baldinger Bakery, St. Paul, Minn.
Community Reinvestment Fund, USA and the Port Authority of the city of St. Paul, Minn.
Real Estate QLICI of the Year

Union Mill, Baltimore, Md.
NCB Capital Impact and SunTrust Community Development Enterprises LLC
Honorable Mention

Pike Place Market, Seattle, Wash.
Kitsap County NMTC Facilitators I, Low Income Investment Fund and Seattle Investment Fund LLC
Small Business QLICI of the Year

New Los Angeles Charter School, Los Angeles, Calif.
LA Charter School New Markets CDE and ExED Facilities V LLC
Honorable Mention

Variety Boys and Girls Club, St. Louis, Mo.
MBS Urban initiatives CDE
Honorable Mention

Whittier Street Health Center, Boston, Mass.
ESIC New Markets Partners LP
The Novogradac Community Development Foundation is a not-for-profit entity that addresses the issues of community and economic development, housing and the preservation of America's neighborhoods. The NCDF fosters the development of knowledge, supports beneficial public policy, and disseminates community development information in its endeavors to establish positive change in the nation's communities.
For further information on the Novogradac Community Development Foundation or the Community Development Awards please contact Rachel Mann at rachel(dot)mann(at)novoco(dot)com or go to http://www.novoco.com/new_markets/ncdf_awards/index.php.
###