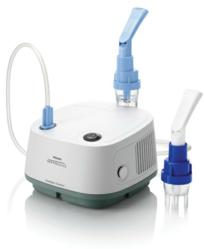 Respironics makes many of our most popular nebulizers.
Fulton, MD (PRWEB) March 12, 2013
JustNebulizers.com is always on the lookout for the newest and best respiratory care products available. This month the company introduced their customers to two new nebulizers—the InnoSpire Essence and the InnoSpire Elegance, both from popular nebulizer manufacturer Philips Respironics.
Some companies are started out of garages. Respironics was started out of founder Gerald McGinnis's kitchen. When Respironics opened in 1976, they primarily manufactured anesthesia masks, as well as some endotracheal and tracheostomy products. In 1985, they came out with the first CPAP machine. Now the company makes CPAP and BiPAP products, oxygen concentrators, hospital ventilators, and of course, nebulizers.
According to Bryan Mercer, "Respironics makes many of our most popular nebulizers. I'm excited to see how visitors respond to the new InnoSpire nebulizers."
The InnoSpire Essence and Elegance are sleek, compact tabletop nebulizers weighing only 3.3 pounds. They are perfect for those with arthritic or weak hands. The top-down tubing connector makes tubing easy to connect and the docking station holds the neb set in place so patients can use two hands to pour in their medicine. Both come with two SideStream nebulizer sets. The InnoSpire Elegance costs a few dollars more than the Essence, but works with SideStream Plus nebulizers as well as regular SideStream nebulizers. The SideStream Plus contains an inspiratory valve that opens on inhalation and closes on exhalation to reduce medication waste.
A third InnoSpire nebulizer, the InnoSpire Deluxe is expected to come out later in 2013. Until then, patients with respiratory illnesses can keep well with the InnoSpire Essence or InnoSpire Elegance.
About JustNebulizers.com
JustNebulizers.com provides respiratory products throughout the United States for people of all ages seeking the very best breathing treatments. JustNebulizers.com understands the importance of choosing the right nebulizer equipment. That is why they provide the largest selection of the best nebulizer systems, parts, accessories, and respiratory care products as well as comprehensive and informative details about all of their products. With a wide assortment of respiratory products at the very best prices, their products fit the needs of both young and old persons who need some breathing assistance.