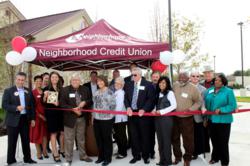 I know that having Neighborhood Credit Union in our own backyard will open a lot of doors for this great community.
Dallas, TX (PRWEB) November 30, 2012
The oldest credit union in Dallas County cut the ribbon on its newest branch in Grand Prairie on November 15. The new Neighborhood Credit Union branch received a warm welcome from Grand Prairie elected officials, community leaders and nearby business owners as it officially made its debut into the community.
"Even as the tough economy has battered many communities, Grand Prairie has rallied," said Chet Kimmell, president and CEO of Neighborhood Credit Union, a not-for-profit, member-owned financial institution. "As a crossroads community that spans three counties, Grand Prairie is a gathering place for businesses and families from all walks of life who have worked hard to build a strong community. It is this spirit that made Neighborhood Credit Union want to be part of Grand Prairie."
The Neighborhood Credit Union team was joined by Grand Prairie Mayor Pro Tem Ron Jensen, Grand Prairie Chamber President Lynn McGinley and Vice Chair Lila Thorn, as well as chamber staff members Greg Cashman and Deborah Hepworth.
The credit union hired Grand Prairie local Francis Santana as the branch manager for their new location, highlighting her familiarity and involvement with the Grand Prairie community as one of the many reasons she fit the bill. Santana, who grew up and graduated from high school in Grand Prairie, was most recently elected to the board of the Grand Prairie United Charities.
Councilman Jensen, who conveniently lives just down the block from the new branch located at 2525 Bardin Rd., pointed to the new Neighborhood Credit Union location as proof that Grand Prairie is headed in the right direction.
"Economic development doesn't just happen overnight," said Jensen. "It takes a lot of hard work and great, hard-working people to get there, and I know that having Neighborhood Credit Union in our own backyard will open a lot of doors for this great community."
Neighborhood Credit Union, the oldest credit union in Dallas (chartered April 18, 1930), is a not-for-profit financial organization serving Dallas and Ellis counties, as well as the city of Arlington. With branches in Oak Cliff, North Dallas, Richardson, Arlington, Mesquite, Duncanville, Waxahachie, Lancaster, and Grand Prairie and assets topping $300 million; Neighborhood Credit Union has a membership of 30,000 and continues to welcome new members daily. For more information on Neighborhood Credit Union, call (214) 748-9393 or visit http://www.myncu.com.