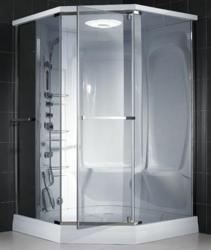 DreamLine Neptune is a robust, versatile, and elegant jetted steam and shower cabin that incorporates a number of amenities
Aiken, SC (PRWEB) December 10, 2012
DreamLine Neptune is a robust, versatile, and elegant jetted steam and shower cabin that incorporates a number of amenities. The cabin can accommodate two users at a time. The backwall of the cabin is composed of four modular pieces made out of white Acrylic (reinforced with fiberglass) that incorporates two molded seats and three accessory shelves. The front of the cabin is surrounded by two stationary glass panels and a swinging door. The surrounding glass is 1/4" thick, tempered and tinted gray.
The cabin is designed to be mounted in a corner against finished or unfinished walls. Neptune's installation options are for right or left installation, allowing plumbing and electrical connections to be planned from either side of the cabin. The overall exterior height of the cabin is 82"while the two backwalls are 51 1/8" wide (exterior measurement). The side glass panels are 32" wide and the swinging door is 27" wide. When fully opened, the door leaves a 23 1/8" walk-in opening. One of the two side glass panels is divided in two pieces; one piece is used as a permanent stationary panel while the other piece is removable and covers the compartment holding the steam generator and pluming connections.
Neptune SHJC-8151516-01 makes the showering experience one of a kind with its 8 adjustable body jets, a multi-function hand-held shower head, a rain shower head mounted in the cabin's roof, and a foot massager with jets. The water outlets are controlled by a thermostatic valve that is integrated with a diverter valve that redirects water to individual outlets.
The Neptune SHJC-8151516-01 cabin comes equipped with a 3.7 kW/240V steam generator and its electronic LED keypad, which controls the operations of the steam generator and the lighting inside the cabin.
DreamLine Niagara shower cabins are now available at Warehouse USA – http://warehouse-usa.com. They are on sale with free shipping throughout 48 contiguous states. For more technical information or if in doubt, please do not hesitate to call 888-693-8066.