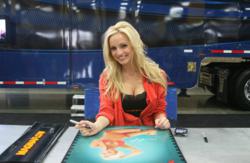 This weekend's March 9-10 event will have giveaways and extra discounts that go beyond those offered in-store.
Compton, CA (PRWEB) March 06, 2013
4 Wheel Parts, leading distributor and retailer of parts and equipment for the aftermarket off-road industry, forges ahead with its 2013 Truck & Jeep Fest road tour at Honolulu's Neal S. Blaisdell Center. This weekend's March 9-10 event will give off-road enthusiasts access to discounted merchandise, behind-the-scenes looks at custom modified vehicles, and chances to view product demonstrations and interact with top industry manufacturers.
Admission to the Hawaii Truck & Jeep Fest is free, and the two-day event happens at the Blaisdell Center located at 777 Ward Avenue, Honolulu, HI 96814. "There will be giveaways and extra discounts that go beyond those offered in-store," says Rodney Ramirez, Waipahu Store Manager. Attendees will get a glimpse of the latest off-road trends and performance tips, learn about effective service and installation procedures with manufacturer representatives and product vendors, and see state-of-the-art parts and gear like Jeep soft tops.
The Honolulu Truck & Jeep Fest will also feature:

Island trucks on display
Industry experts and product demonstrations
Discounts on house-brand products
Competitive deals on 4x4 equipment and parts
Some onsite vendors will offer free or discounted installation and service for parts and gear purchased at the fest. On Saturday March 9, the event will be open from 10 a.m. to 4 p.m. and Sunday March 10, doors will open from 11 a.m. to 4 p.m. 4 Wheel Parts conducts several Truck & Jeep Fests throughout the year on its Truck & Jeep Fest road tour, with events occurring nationally. Future fests scheduled will occur in Puyallup, Wash.; Dallas, Texas; and Ontario, Calif., Denver, Colo., Atlanta, Ga., and Orlando, Fla.
Many 4 Wheel Parts stores now feature online Google virtual tours of their showrooms, allowing users to navigate the entire premises before they visit. The interactive tour has high resolution images of off-road vehicle products and accessories that users can share via social media. The Waipahu store will have an online virtual tour available in the next few months.
About 4 Wheel Parts: 4 Wheel Parts is a retailer and service provider specializing in aftermarket parts for off-road and 4x4 enthusiasts. With 59 locations nationwide, 4 Wheel Parts supplements its retail centers with a robust mail-order and e-commerce distribution network to serve customers around the country and around the world. 4 Wheel Parts carries a large inventory of truck and Jeep parts, including lift kits, nerf bars, tires, running boards and more.