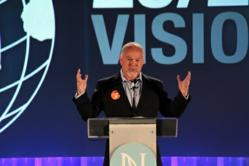 (PRWEB) March 28, 2013
Nerium was pleased to host their East Coast Spring Bash in Nashville, TN from March 14-16, 2013. This was the second of three Spring Bash events, the third of which is scheduled for April 18-20 in Las Vegas.
From the moment the first workshop began on Thursday until Saturday night's party ended, Nerium kept guests wanting more. Attendees were taught valuable information, including exciting details about new programs, third-party tools they can use to build their businesses, hosting effective Real Results Parties, and the scientifically proven benefits of being happy.
Debra V. said of the event: "This was a family reunion extraordinaire! Being in the room with my company leadership energizes me and motivates me to go and grow."
Another participant, Dave A., said, "It's hard to talk about the 'best part' as there were so many 'a-ha' moments. One very distinct experience for me was witnessing myself and others… our prayers were and are being answered."
"The excitement and personal development were incredible," added Nerium Spring Bash attendee Denise K. "You can tell the leaders in Nerium are dedicated to the morals and values of its Brand Partners and customers."
Rosalee B., a Brand Partner who was unable to attend Nerium Spring Bash, said, "I didn't get to go, but just seeing my friends come back really on fire for Nerium and pumped up about staying happy was very inspiring to me!"
For more information about Nerium International, please visit http://www.neriumblog.net. To sign up for the Spring Bash in Las Vegas, please visit Nerium.com.
About Nerium International:
Nerium™ International, LLC, headquartered in Addison, Texas, markets breakthrough products validated by science. In 2011, the relationship marketing company partnered with Nerium SkinCare™ Inc. (a subsidiary of Nerium Biotechnology, Inc.®), to deliver the NeriumAD™ skincare line. These first-of-their-kind products – clinically proven to reduce the appearance of fines lines and wrinkles – are the result of leading-edge research into the Nerium oleander plant and its age-defying results when applied to the skin. Led by an executive team with more than 150 years of collective experience, Nerium International is committed to developing and distributing skincare products that are rooted in real science and produce real results that improve consumers' lives. For more information, please see Nerium.