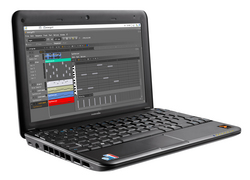 At $499.00 complete with hardware and fully loaded software, we provide the most affordable full featured mobile recording studio in the world
Los Angeles, CA (PRWEB) May 14, 2009
Trinity Audio Group Inc. refreshes it's line of award winning mobile audio computers by announcing today the Indamixx Netbook Model 2, an affordable Linux audio Netbook with pre-installed audio and mobility software.
"At $499.00 complete with hardware and fully loaded software, we provide the most affordable full featured mobile recording studio in the world," says Creative Director Ronald Stewart. "The Indamixx Netbook is an ideal product for music beginners and priced perfectly for the masses."
"Google and Apple are 'talking' about the Netbook space. We're already there and shipping our own Linux blend. Indamixx is a great fit for Adobe," says Stewart. Indamixx wins Remix Magazine's 'Most Innovative' Product of 2009. All Indamixx products feature award winning energy XT2 digital audio workstation.
More than a Netbook but better than OS X?
Keyboard magazine says "Routing audio, MIDI, and sync between apps is quicker and easier than on Windows and Mac. The included music applications are rock solid and better connected to each other than on other computers, even compared to the smooth functionality of Mac OS X."
Remix magazine says "For any Web-savvy DJs or performers who want to integrate Web streaming broadcasts into their world, Indamixx is a fantastic all-in-one solution."
Major upgrade of OS based on trusted Ubuntu 9.04.
Model 2 improvements include 3.0 Transmission (OS) - Custom Linux operating based on Ubuntu 9.04. A Private Label MSI Wind U100 with factory installed 2GB RAM - 1 year limited warranty
160GB HDD. Beautiful 10" Widescreen
An Over clocked Intel Atom chip up to 2.0Ghz with up to 4 hour battery life.
3G and HSDPA capable.
Pre order now at Musician's Friend.
http://pro-audio.musiciansfriend.com/product/Indamixx-Indamixx-Laptop?sku=580122
Visit us at:
Website: http://www.indamixx.com
http://www.twitter.com/indamixx
All inquiries please contact:
Ronald Stewart
Creative Director
310-733-9285
About Trinity Audio Group Inc.:
Trinity Audio Group Inc. is a Washington state corporation specializing in the production and marketing of affordable, innovative field recorders and portable digital audio workstations.
About XT Software AS.:
XT Software is a multimedia company delivering true community-based music software. Founded in 2006, the company puts the needs of the user in focus, rather that the needs of the software developers. The main product of the company, to be found on Indamixx, is the award winning DAW energyXT, which was first released in 2003. The company is based in Norway and are selling products worldwide. Find us at http://www.energy-xt.com
The VST mark and logo is a trademark of Steinberg.
###