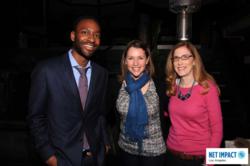 We are excited to host a community of EcoSocio entrepreneurs and intrapreneurs working together to create sustainable social and environmental impact in Los Angeles, ~ Brandon Smith, President of Net Impact Los Angeles Chapter
Los Angeles, CA (PRWEB) March 28, 2013
To bring professionals together who are doing good or want to learn about socially responsible businesses, Net Impact LA will host a 2013 KickOff Event next Tues, April 2, 2013, 6:00-9:00pm at the DIRTT Green Learning Center (9014 Lindblade St, Culver City, CA 90232). Local sustainability, corporate social responsibility, and social enterprise industry leaders will lead the event. Anyone interested in making a positive impact can attend by joining Net Impact LA, and can register here http://netimpactkickoff2013.eventbrite.com/#
The goal of this Net Impact LA Kickoff event is to strengthen the LA EcoSocio community around socially responsible businesses, jobs and employees taking social good initiative inside their company by providing an opportunity to network and brainstorm ideas together. During this event, participants can attend up to 5 mini-workshops where strategic partners will do short 10-minute presentations, and then lead discussions about ways to build a social enterprise and positively impact the community.
"We are excited to host a community of EcoSocio entrepreneurs and intrapreneurs working together to create sustainable social and environmental impact in Los Angeles," says Brandon Smith, President of Net Impact Los Angeles Chapter. "Join us and learn how you can help develop innovative business solutions to address our most pressing local issues."
The 5 strategic partners who will present at this event include local business leaders, Net Impact Advisory Board Members and Partners walking the talk.
1. B Revolution helps entrepreneurs start Benefit Corporations. This group will review the benefits of a B Corp, the B Corp movement and B Corps in LA.
2. SocEnt.LA is building a responsible business community in LA (Social Enterprises, B Corps, revenue-oriented nonprofits.) The leader will discuss how to bring businesses together, create value for the responsible business community, and their Partnership with Net Impact LA.
3. Goody Awards inspires change by recognizing good. This group will discuss how anyone can recognize everyday heroes thru social media using #GoodyAwards via Twitter and offline at live events with sponsors, why it's important to acknowledge impact, and how Net Impact LA supports these social good awards initiatives.
4. thrdPlace creates community impact projects. This leader will discuss how to identify a community need, recruiting people to help, measuring impact, and their Partnership with Net Impact LA.
5. MAYii is a responsible start-up dating app. This group will discuss what is a responsible business, best practices, tools and resources, and their Partnership with Net Impact LA.
This event is for Net Impact Professional Chapter members, Students, Non-members and those interested making a positive impact in LA. There is a small fee to attend this event to cover costs: Non-Members ($10), Basic & Student Members ($5), and Premium Members (Free). Anyone who wants to attend can sign up as a member here http://netimpactla.org/membership/ and then RSVP for the event here http://netimpactkickoff2013.eventbrite.com/#
About Net Impact and Net Impact LA
Net Impact is the leading nonprofit that empowers a new generation to create positive social and environmental change in the workplace and the world. The Net Impact Los Angeles Professional Chapter uses the power of business to solve social and environmental problems throughout greater Los Angeles by connecting people, educating professionals and creating impact. http://netimpactla.org/