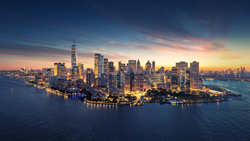 "This expansion of our New York presence is an important part of our strategic growth strategy," said Mark Mahle, CEO of NetActuate. "With its exceptional access to internet exchanges and financial services providers, New York is a key location for peering."
NEW YORK (PRWEB) November 29, 2018
NetActuate has expanded capacity and boosted connectivity in their New York datacenter to meet growing demand for services. With dark fiber access to many financial exchanges and banks, their datacenter is strategically located to provide low-latency access to New York's massive electronic trading ecosystem.
"This expansion of our New York presence is an important part of our strategic growth strategy," said Mark Mahle, CEO of NetActuate. "With its exceptional access to internet exchanges and financial services providers, New York is a key location for peering."
NetActuate's New York location features redundant electrical power and cooling, multifactor security, and multiple network connectivity options, including direct access to NYIIX (the New York International Internet Exchange). For those high data security needs, this facility is SSAE 16, HIPAA, and PCI accreditation compliant. NetActuate's 24×7 NOC and local technicians are available to provide expert support and skilled remote hands.
NetActuate offers clients in New York access to their global network of 33 additional locations and over 3,500 peers. Startups and growing businesses can quickly and easily deploy cloud and bare metal resources from all of their strategic locations.
For growing businesses that require 100% uptime and low latency performance, NetActuate specializes in providing the best global BGP anycast in the industry, available from their New York and 32 additional domestic and worldwide locations. You can learn more about their anycast technology at netactuate.com/anycast.
To learn more about NetActuate's New York location, please schedule a call with a solution specialist by calling 1-800-419-COLO (2656) or by visiting netactuate.com.
About NetActuate
NetActuate is a trusted global infrastructure and connectivity provider, delivering highly available, customized solutions for growing businesses. Our focus on flexible, open source solutions will optimize your IT investment with enterprise-level security, rapid scalability, and maximum reliability. Founded and led by engineers, we constantly innovate to make sure your business is ready for tomorrow's marketplace – today. Learn more today at 1-877-467-COLO or at netactuate.com.