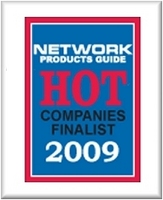 We are delighted that our company has reached the 2009 Hot Company Finalist stage
Bedford, MA (PRWEB) December 15, 2008
NetClarity, a leading provider of award winning vulnerability management, intrusion prevention and clientless NAC appliances, today announced that it has been named a 2009 Hot Companies finalist by Network Products Guide. Selected from a global industry analysis of information technology vendors which included established large companies, mid-size and new start-ups, NetClarity has advanced to the finalists stage based on the "4Ps" selection criteria--namely Products, People, Performance, and Potential. The coveted 2009 Hot Companies analysis encompasses companies in all areas of information technologies including security, wireless, storage, networking, software and communications.
The "Hot Companies" 2009 evaluation process also assessed candidates for entrepreneurial spirit, seasoned executives with relevant experience, clear understanding of the segment of IT market they are currently active and plan to stay active in, products and solutions that are positioned to take advantage of the emerging market opportunities, well developed revenue-growth model and clearly planned expansion strategies.
According to a separate, independent report from Forrester Research, "NAC is becoming increasingly critical for compliance and automating regulatory mandate requirements. IT and business execs are pushing organizations to comply with mandates such as the payment card industry (PCI) data security standard and Sarbanes-Oxley Act (SOX). Security professionals' eyes twinkle when they hear that NAC provides audit trails and reporting mechanisms to comply with mandates."("NAC Remains A Blockbuster-But Wait Until You See The 2009 Coming Attractions", Forrester Research, Inc., October 2008).
The 2009 Hot Companies winners will be announced and honored at the 2009 "World Executive Alliance Summit" in San Francisco, California, USA on March 26-27, 2009. NetClarity will be amongst the other key industry players at this event. The CEOs of finalists will be presenting their company's 4Ps criteria live to an audience of leading entrepreneurs, IT companies, venture capitalists, corporate strategists and media. To see the complete list of finalists please visit http://www.networkproductsguide.com/hotcompanies/.
"We are delighted that our company has reached the 2009 Hot Company Finalist stage," said Gary S. Miliefsky, President & Founder. "This further validates our position as a company poised to become the market leader in Network Access Control (NAC), by helping our partners and customers secure their networks, comply with regulations and reduce risk and all within much tighter budget constraints and against more significant threats than ever before. We are proud of this accomplishment and will be presenting at the 2009 World Executive Alliance Summit to win the 2009 Hot Companies award."
About Network Products Guide Awards:
Network Products Guide, published from the heart of Silicon Valley, is a leading provider of products, technologies and vendor related research and analysis. You will discover a wealth of information and tools in this guide including the best products and services, roadmaps, industry directions, technology advancements and independent product evaluations that facilitate in making the most pertinent technology decisions impacting business and personal goals. The guide follows conscientious research methodologies developed and enhanced by industry experts. To learn more, visit http://www.networkproductsguide.com
About NetClarity, Inc.:
NetClarity manufactures and delivers through trusted channel partners in over 40 countries, award winning patented NACwall appliances - agent-less non-inline, non-invasive network access control (NAC) devices that provide preemptive, proactive network protection behind all brands of firewalls against the latest network security threats on both wired and wireless networks. The company's NACwall line of appliances has received widespread recognition, including three Best Buy Awards, 5 Star ratings, and Best of 2007 from SC Magazine and according to CRN is one of the Who's Who in NAC and Most Innovative NAC Product Award 2008. NACwalls enables customers to clearly see and better protect their network assets, identifying with pinpoint accuracy the root causes of data leakage, regulatory compliance gaps and network downtime using MITRE's CVE® standard. Based in Bedford, Massachusetts, NetClarity is privately held. For more information, visit http://www.netclarity.net/.
NetClarity, NACwall and the NetClarity logo are trademarks of NetClarity, Inc. CVE is a registered trademark of MITRE Corporation. All other trademarks are the property of their respective owners.
Press Contact for NetClarity:
Liz Grotzke
781-276-4555
###