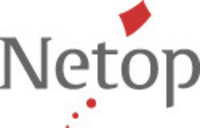 Even though we're starting to see signs of recovery, teachers tell us every day that they still need funding support to purchase the technology tools they need to improve student achievement
Beaverton, OR (PRWEB) February 16, 2011
Netop, the world's largest provider of classroom management software, announced additional funding for GAP Grants through its Netop Get A Grant for Education (NGAGE) program to help educators struggling with shrinking budgets. Available through June 30 or until the funding runs out, the easy-to-apply-for grants are part of the company's commitment to ensure that all schools and teachers have access to tools for teaching with technology.
With the GAP Grants, Netop provides financial support for schools to purchase the popular Vision7 classroom management software for a district, school or classroom. The newly redesigned Vision7 gives teachers complete control over classroom computers from an easy-to-use console that shows each student computer screen. Educators around the world use Vision7 to monitor student progress, control Web browsing and guide student learning on computers.
"Even though we're starting to see signs of recovery, teachers tell us every day that they still need funding support to purchase the technology tools they need to improve student achievement," said Kurt Bager, CEO, Netop. "With additional funding for GAP Grants, schools can quickly and easily apply for financial help to weather the storm and still ensure their teachers have access to high-quality tools for teaching with technology."
Vision7 is priced at $999, but with a GAP Grant of $300, an educator would pay only $699 per lab. Schools can also receive grants of $1,100 for a site license, making Netop Vision7 more affordable than ever before.
The GAP Grants apply to select purchases of Netop Vision7 or Netop School made through Netop or an approved Netop reseller. For more information, call toll-free 866-725-7833 or visit http://www.netop.com/NGAGE.
About Netop Solutions A/S
Netop develops and sells software solutions that enable swift, secure and seamless transfer of video, screens, sounds and data between two or more computers. The company has three business areas: Administration, Education and Communication.
Netop's industry-leading Remote Control Administration solution, used by more than half of the Fortune 100, is the most secure, trusted and scalable remote support solution on the market today. In Education, Netop is the world leader in classroom management software, helping teachers in 75 countries make teaching with technology easier and more effective. And in Communication, Netop Live Guide is the rich media chat solution that helps companies provide better customer service, increase efficiency and turn web site visitors into customers.
Headquartered in Denmark, Netop employs 130 people and has subsidiaries in the United States, Great Britain, Romania and Switzerland. The company sells its solutions to public and private clients in more than 80 countries. Netop Solutions A/S shares are listed on the Copenhagen Stock Exchange OMX. Read more at: http://www.netop.com.
###