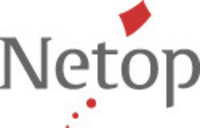 Chicago, IL (PRWEB) March 23, 2011
Today Netop released an update to Netop ProtectOn Pro , the company's affordable endpoint protection software for schools, libraries and businesses. Version 2.0 of ProtectOn Pro includes user interface and usability improvements that enhance hard disk protection, improve visibility into endpoint protection policies, and streamline the remote management of networked computers.
New features in version 2.0 include the ability for school IT administrators to view the hard disk protection status of all computers on their network, as well as the date and time when agents last received a policy download. With this information available in Netop ProtectOn Pro, IT Administrators have a complete view of their network and can see which computers are protected and which computers are active, all in real time.
ProtectOn Pro also now displays protection policies to end users, showing them which device control, Internet and application policies and processes are currently active on the local machine and whether hard disk protection is scheduled to be activated on the next restart. And, to streamline remote management, ProtectOn Pro now enables IT administrators to restart or wake up an entire group of computers with a single click.
Keeping networked computers free from damage and running reliably is easy with Netop ProtectOn Pro , the affordable endpoint protection software that combines robust hard disk protection with powerful remote management and comprehensive Internet, application and device controls. Ideal for schools, libraries and businesses, Netop ProtectOn Pro eliminates problems and saves countless hours of support time.
ProtectOn Pro is available in English, German and French. Contact Netop or your local partner for information on pricing. Substantial discounts are available for educational customers. Updates to version 2.0 of Netop ProtectOn Pro are available at no charge to existing customers with current Netop Advantage annual support and upgrade policies.
Learn more about ProtectOn Pro at http://www.netop.com.
About Netop Solutions A/S
Netop develops and sells software solutions that enable swift, secure and seamless transfer of video, screens, sounds and data between two or more computers. The company has three business areas: Administration, Education and Communication.
Netop's industry-leading Remote Control Administration solution, used by more than half of the Fortune 100, is the most secure, trusted and scalable remote support solution on the market today. In Education, Netop is the world leader in classroom management software, helping teachers in 75 countries make teaching with technology easier and more effective. And in Communication, Netop Live Guide is the rich media chat solution that helps companies provide better customer service, increase efficiency and turn website visitors into customers.
Headquartered in Denmark, Netop employs 130 people and has subsidiaries in the United States, Great Britain, Romania and Switzerland. The company sells its solutions to public and private clients in more than 80 countries. Netop Solutions A/S shares are listed on the Copenhagen Stock Exchange OMX. Read more at: http://www.netop.com.
###