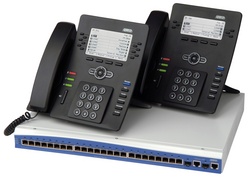 The NetVanta 7060 comes as the result of requests for a platform that will economically support the transition to VoIP for those customers choosing to leverage their existing data network infrastructure
HUNTSVILLE, Ala. (PRWEB) April 28, 2008
"The NetVanta 7060 comes as the result of requests for a platform that will economically support the transition to VoIP for those customers choosing to leverage their existing data network infrastructure," said Tim Saunders, vice president of product management, ADTRAN Enterprise Networks Division. "This product builds upon the integrated voice features of our NetVanta 7100 IP Communications Platform and allows SMBs and distributed enterprise customers to make the transition to VoIP with a single platform."
This IP PBX offers a wealth of functionality including integrated voice mail (12 hours, eight ports) and a multilevel auto attendant. The NetVanta 7060 also provides a number of popular key system features such as Shared Line Appearance and Busy Lamp Field /Direct Station Select. It offers flexible network connectivity with support for SIP Trunking, T1/PRI and analog connections. The system eliminates the need for ancillary equipment with an integrated 802.3af 24-port PoE switch supporting 802.1Q VLANs and 802.1p Class of Service.
Ease of use features are at the center of the design of this platform. The NetVanta 7060 is very easy to use and install, offering a robust Graphical User Interface (GUI) with getting started menus and wizards that simplify configuration and management. In addition, graphics-based Voice Quality Monitoring (VQM) is inherent in the device. This allows network administrators to monitor Mean Opinion Scores (MOS) and other critical VoIP parameters to quickly and easily identify and correct Quality of Service (QoS) issues on the voice network.
In addition to the introduction of the NetVanta 7060, ADTRAN also announced the availability of a number of new features for the NetVanta 7000 Series, including: SIP Trunking, SIP proxy (eliminating the need for an external SIP ALG device), system scheduler, the ability to function as a wireless controller, and VQM. The NetVanta 7060 fully equipped with 24 ADTRAN 706 IP phones lists at approximately $411 per station. The NetVanta 7060 will begin shipping in June in North America. ADTRAN has also lowered the price of the NetVanta 7100 IP Communications Platform. A fully equipped system with 24 ADTRAN IP 706 phones retails for approximately $450 per station.
About ADTRAN
ADTRAN, Inc. is a leading global provider of networking and communications equipment, with a portfolio of more than 1,700 solutions for use in the last mile of today's telecommunications networks. Widely deployed by carriers and enterprises alike, ADTRAN solutions enable voice, data, video, and Internet communications across copper, fiber, and wireless network infrastructures. ADTRAN solutions are currently in use by every major U.S. service provider and many global ones, as well as by thousands of public, private and governmental organizations worldwide.
For more information, contact the company at 800 9ADTRAN (800 923-8726) or via email at info@adtran.com. On the Web, visit http://www.adtran.com.
Keyword Tags:
adtran, adtran netvanta, ip pbx, smb