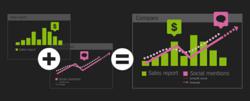 MisoData begins where Excel ends. Now you can see all your reports on on dashboard, watch every chart update automatically, and drag-and-compare anything.
San Francisco, CA (PRWEB) June 17, 2013
Most employees report spending too much time gathering manual reports from different systems and departments, without being able to find what they need when they need it. Today, Netvibes (http://www.netvibes.com), the leader in dashboard intelligence, introduced a new feature called MisoData that makes it easy to instantly compare any internal data or KPI--alongside external social trends--just by dragging and dropping.
"MisoData begins where Excel ends. Now you can see all your reports on dashboard, watch every chart update automatically, and drag-and-compare anything. You can literally see how your Sales correlate to your Social Media campaign, Supply Chain and Engineering Tickets," said Freddy Mini, CEO Netvibes. "The magic of MisoData is that anyone can do it, even on an iPad. No IT, business analytics or database knowledge necessary. No more emailing Excel reports back and forth."
Netvibes is used by Fortune 500 brands, global agencies and government organizations to visualize internal data and external trends, all in one dashboard. Now with the new MisoData feature, any user can chart, monitor and compare data from virtually any enterprise system in seconds--without IT knowledge.
Chart anything in just three clicks: Pick any Excel spreadsheet or CSV report from virtually any enterprise system or database. MisoData will chart all your reports beautifully on one dashboard--complete with forecasts, linear regression and average curves--without the need for IT involvement or custom data connectors.
Grow automatically: Watch last week's estimates get replaced by this week's actual numbers. MisoData syncs all your chart data automatically, so you'll never need to run the same report each week. Instead of emailing Excel files back and forth, your team can simply check their dashboard from their iPad, iPhone, Android, Blackberry or desktop browser.
Drag-and-Compare everything: Drag any chart onto any chart for instant comparisons and correlations. Now you can instantly understand how different internal KPIs correlate with each other and even external social trends, competitive intelligence or regulatory affairs. No complex queries or business analytics--simply drag-and-compare.
For example, imagine dragging and comparing your Sales with Inventory with Social Reputation on an iPad in seconds. Or comparing historical Consumer Research data with real-time Competitive Intelligence or more than 250,000 newsfeeds (also built-in).
Since dashboards are always refreshed and up-to-date, users never have to run manual reports again. Not only does this save significant time, but it also reduces external risk by making it easy for any user to correlate internal KPIs versus market trends, competitors or regulations in just a click or swipe of a finger.
For years, Netvibes for Enterprise has helped many global brands and Fortune 500 companies put the right information into the hands of the right people at the right time. Netvibes for Your Agency has enabled leading agencies and research organizations to design and offer their own custom social dashboard tools to help prove Social ROI for clients. Now with MisoData, any Netvibes enterprise, agency or premium user can instantly chart, monitor and compare any data, spending less time reporting and more time innovating.
Learn more about the new MisoData feature at: http://www.netvibes.com/en/misodata
About Netvibes (http://www.netvibes.com)
Netvibes (now part of Dassault Systèmes) is the leader in dashboard intelligence, powering Fortune 500 brands, agencies and enterprises worldwide.
For consumers, Netvibes Basic is the most awarded dashboard engine that helps millions of people around the world instantly dashboard everything that matters to them most. For agencies, Netvibes for your Agency offers custom social dashboards to prove social ROI for any campaign, automate reporting, and deliver faster insights to clients. For enterprises, Netvibes for Enterprise connects virtually all internal systems plus the social web together on a secure, real-time dashboard intelligence portal that's accessible anytime, anywhere, on any device.
For more information, visit: http://www.netvibes.com