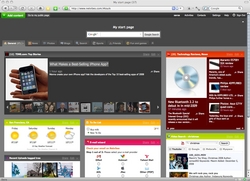 We are very proud to be part of Netvibes' new widget design technology. This partnership underlines our commitment as a leading, innovative player in the French online publishing landscape, particularly in video news
San Francisco, CA (PRWEB) December 10, 2008
Netvibes (http://www.netvibes.com), the leading widget and personalized startpage platform, today announced that it has launched the Web's first flexible, magazine style startpages and multi-view widgets. Now widgets can be resized across different columns and display rich RSS feeds in a variety of exciting new layouts. Netvibes also introduced instant widget creation tools that make it easier than ever to rapidly design and deploy fully customized and branded widgets that are compatible across all major startpage and desktop platforms.
With dynamic layouts, widgets can finally break out of the traditional column-only format, enabling branded media content to be published exactly the way it was meant to be seen. Dynamic magazine style layouts allow users to resize and reshape widgets in different formats across multiple columns--a dozen new layouts in total.
Netvibes multi-view widgets transform any standard RSS feed into more engaging, interactive media experiences by displaying text, photo and video content in four different views: Ticker (scrolling headlines), Carousel (gallery), Magazine (front page plus gallery) and Normal (list view). In addition, content can be expanded with the Netvibes Feed Reader to display full-page content views or the original website itself.
For screencasts and more information on Netvibes' flexible layout and multi-view widget formats, visit: http://blog.netvibes.com
Netvibes developed these new widget design formats to meet the needs of top media publishers and users alike. Launch partners include leading media publisher CondéNet and French newspaper Le Parisien, who helped design and optimize these new widget layout formats for displaying content in more engaging styles.
"We recognize feeds, widgets and startpages as an efficient way to
deliver our content to large, dedicated audiences," said Bernie Davis,
Director of Content Distribution for CondéNet. "Netvibes continues to be a leader and innovator in this space, and we're pleased to partner with them to create new visual formats and layouts that maximize the
impact of our content."
"We are very proud to be part of Netvibes' new widget design technology. This partnership underlines our commitment as a leading, innovative player in the French online publishing landscape, particularly in video news," said Isabelle André, New Media Director, Groupe Le Parisien. "We're strongly convinced that this new approach will greatly facilitate creative RSS usage and widget publishing, to reach even wider audiences on the Web."
New Instant Widget Publishing Tools
Netvibes also introduced an instant widget creation wizard to help brands and online marketers quickly and easily create fully customized widgets. This new tool enables anyone to create their own multi-tabbed, multi-feed widget, with full control over design and branding, in just a few simple steps. Since all of these widgets are built using the Netvibes Universal Widget API (UWA), the leading universal widget standard, they are fully compatible across all major startpage and desktop platforms. More information is available at: http://eco.netvibes.com/submit/widget
"Until now, marketers and media companies were often limited to displaying branded content within a static box, and developers faced an endless array of different widget platforms to code for," said Freddy Mini, CEO Netvibes. "Our instant branded widget creation tools, dynamic layouts and new OpenSocial capabilities, solve these problems with smart, social and universally compatible widgets that are easy to create and distribute directly to millions of users on Netvibes.com."
Earlier this week, Netvibes announced OpenSocial compatibility, enabling developers to rapidly build a new generation of smart, social widgets that can instantly tap into users' social networks and run on virtually all widget platforms and desktops. More information is available at: http://blog.netvibes.com
About Netvibes (http://business.netvibes.com)
Founded in 2005, Netvibes pioneered the personalized startpage as alternative to traditional web portals. Today, Netvibes is a global community of users who are taking control of their digital lives by personalizing their web experience. Netvibes lets individuals assemble all in one place their favorite widgets, websites, blogs, email accounts, social networks, search engines, instant messengers, photos, videos, podcasts, and everything else they enjoy on the Web.
Netvibes helps the world's top brands, marketing agencies and developers create cross-platform widgets, guarantee distribution and installation across a global audience of widget users on Netvibes.com, and deploy custom branded widget startpage portals within their own Web properties. Netvibes has offices in Paris, London and San Francisco.
Media contact:
Vincent Chang
415-806-1769
###