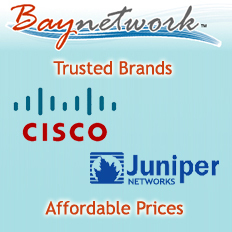 Las Vegas, NV (PRWEB) March 24, 2009
The American economy has been searching for a way to help it escape a downward spiral. There has been a focus on two big ideas to bring the country out of this slump: affordable goods and green technology. Affordable goods can reinvigorate the marketplace by promoting consumer and enterprise spending when available capital is low. Green technology and services can create a new surge of jobs and a healthier planet. Baynetwork, a leading network hardware reseller, prides itself on both affordable prices and eco-friendly services.
Consumers and businesses alike do not have the current capital to purchase full-price goods. Many of today's next-generation businesses spend a tremendous amount of money on their company's network infrastructure. This is an important aspect of any modern business: the ability for management, processing, sales, and clients to effortlessly communicate with one another. However, network equipment is far too expensive for many to afford in today's economic climate. This is where Baynetwork.com wants to make a big impact.
The company sells used networking equipment with 60%-90% savings off market retail prices. Baynetwork offers brand name trusted hardware, including used cisco and used juniper products. Every individual piece of hardware, such as a used router, passes through Baynetwork's rigorous inspection and testing to ensure the best in quality. The company also offers a 100% warranty on all of its goods. For many businesses that are trying to stay lean, Baynetwork provides an incredible opportunity to save thousands of dollars in network infrastructure costs. The money saved purchasing used networking hardware can be diverted to other integral parts of a business, like retaining a quality sales team.
Baynetwork also prides itself on being eco-friendly, providing several hardware asset recovery programs. The company maintains the goal of recycling as much useful hardware as possible to help ease the strain on the country's landfills and prevent unnecessary equipment manufacturing. The company's network equipment buy back program allows customers to get rid of unwanted hardware, regardless of where they originally purchased the equipment. Baynetwork's team of qualified engineers inspects the equipment, repair it to performance standards, and then pay top dollar on the spot to buy it back.
Baynetwork's commitment to the planet also extends to brand name network hardware services, such as used cisco recycling, cisco buy back, cisco repair and juniper repair. By reusing, recycling, and repairing equipment, the company believes it can both save money for it's customers as well as help maintain a consistent green footprint. Yuriy Petushkov, Baynetwork's managing director, describes the company's green outlook: "Baynetwork is one of the few companies that has the experience in servicing and repairing networking equipment. Utilizing our assets we are able to refurbish most of the equipment that comes our way and safely dispose the remaining hardware in an environmentally friendly manner. This provides our customers substantial savings on fully tested and refurbished hardware, and helps maintain our green footprint."
Baynetwork recently launched a re-designed web portal at Baynetwork.com to provide its customers with a user-friendly browsing experience. The site is designed to highlight the various types of used networking equipment offered and the amount of money that a customer can save based on retail prices. Website visitors can also browse and research the list of services that Baynetwork offers, ranging from network design to managed IT & MIS.
Both the economy and environment are damaged, however, a company that focuses on repairing these problems offers some hope for the future. Baynetwork.com provides a viable solution by offering affordable products and eco-friendly services.
About the Company:
Baynetwork is the premier reseller of new and used computer and networking equipment including used Cisco, used Juniper and other refurbished network hardware.
Contact:
Baynetwork Inc.
1-866-237-3858
http://www.baynetwork.com
###