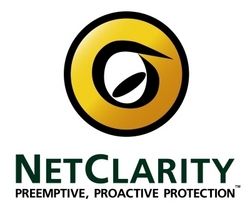 Unlike competition, we don't believe an agent can ever be trusted as a key to NAC but it can be a helpful addition in a multilayered approach to IT security and management. In fact, most NAC agents are hacked within days of their release, so we made sure our appliances don't use these agents for trust purposes, as patented
Bedford, MA (PRWEB) January 27, 2009
NetClarity, a leading provider of award winning vulnerability management, intrusion prevention and clientless NAC appliances, today announced that it has released version 7.0 of the NACwall appliances, which continue to provide the world's only patented non-inline, non-invasive agentless network access control with a powerful, new integrated Command Center.
In addition, the new Endpoint Defender agent is now integrated with the NACwall solution. Unlike competitors, NetClarity has chosen to make this agent an add-on management tool, not a required security component in the NACwall offering. This Endpoint Defender agent includes useful IT management functionality for Windows® users that include power management features for off-hours system hibernation, managing wireless, IR, USB ports, high risk services, enforcing patch management and scanning for the latest virus, completely free of charge.
"Unlike competition, we don't believe an agent can ever be trusted as a key to NAC but it can be a helpful addition in a multilayered approach to IT security and management. In fact, most NAC agents are hacked within days of their release, so we made sure our appliances don't use these agents for trust purposes, as patented," said Gary S. Miliefsky, President & CTO, NetClarity, Inc. "This software agent is part of our Green Your Network Campaign, and you can download your own free copy, located at http://www.netclarity.net/gogreen.html."
NACwalls are non-inline, non-invasive, plug-and-play Network Access Control (NAC) appliances which keep intruders off networks from behind firewalls on wired and wireless networks. They can scan corporate networks for trusted devices that may contain exposures or vulnerabilities exploited by hackers that firewalls and wireless encryption can't defend against. NACwalls also alert customers and block against malicious and un-trusted network access at all points on the network without the need to deploy any software agents.
New and Improved Features in NACwall v7.0 Include:

New Command Center for Easy Management of Remote Enterprise, Branch and Micro Appliances
New Wireless Router Protection for Intrusion Prevention on Wireless Networks
Faster, more powerful Enterprise appliances with Multi-subnet Support
New Integration with Endpoint Defender agent for improved IT management with MSI support
Enhancements to EasyNAC Alerting and Blocking Engine for Large Multi-routed Networks
Automatic Vulnerability Checking on Trusted Assets (such as returning Laptops)
Faster Automatic Blocking and Alerting against Rogue wireless devices, PDAs and Unauthorized Laptops
Enhanced MAC and IP Spoof Protection for Large Dynamic Networks
Point and Click Alerting and Protection for VoIP Phones and VoIP Gateways
"We have the fastest, easiest, most cost effective NAC solution on the market today and our Channel Partners in over 40 countries continue to deliver our solution to customers who have decided to choose NetClarity over some of the biggest players in NAC including Cisco, Juniper, Microsoft and Symantec.", said Dror Shalita, VP International Channels.
NetClarity's NACwall appliances are protected under US Patent Number 7346922, US Pat. 11/338,870, US Pat. 10898900, US Pat. 11622460, US Pat. 11769971 as well as eleven other published and pending patent applications.
About NetClarity, Inc.
NetClarity manufactures and delivers through trusted channel partners in over 40 countries, award winning patented NACwall appliances - agent-less non-inline, non-invasive network access control (NAC) devices that provide preemptive, proactive network protection behind all brands of firewalls against the latest network security threats on both wired and wireless networks. The company's NACwall line of appliances has received widespread recognition, including three Best Buy Awards, 5 Star ratings, and Best of 2007 from SC Magazine and according to CRN is one of the Who's Who in NAC and Most Innovative NAC Product Award 2008, nominated for 2009 Hot Companies Award and SC Magazine 2009 Award. NACwalls enables customers to clearly see and better protect their network assets, identifying with pinpoint accuracy the root causes of data leakage, regulatory compliance gaps and network downtime using MITRE's CVE® standard. Based in Bedford, Massachusetts, NetClarity is privately held. For more information, visit http://www.netclarity.net/ and http://gogreen.netclarity.net
NetClarity, NACwall and the NetClarity logo are trademarks of NetClarity, Inc. CVE is a registered trademark of MITRE Corporation. Windows is a registered trademark of Microsoft Corporation. PowerPC is a registered trademark of IBM. AMCC is a registered trademark of Applied Micro Circuits Corporation. Power Architecture is a trademark licensed by Power.org. All other trademarks are the property of their respective owners.
###