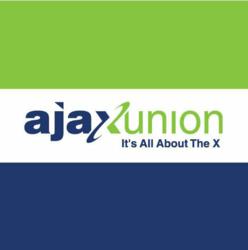 If you're at all worried about what to expect from a networking event, just make sure to do your research in advance, bring along a few business cards, and show up with a smile
New York, NY (PRWEB) March 02, 2013
"Networking into Success: Eight Steps for Successful Business Networking," is an eBook available as a complimentary download on SEO company Ajax Union's website. The networking eBook is part of a growing and ongoing series of eBooks sponsored by Ajax Union to cover a wide-array of business topics, including marketing, website development, social media, and much more. Each 15-page eBook serves as a guide and is written by team members of the online marketing firm's staff.
A guide to meeting and connecting with other business professionals, "Networking into Success: Eight Steps for Successful Business Networking," teaches the benefits of attending networking events, exchanging contact information, and connecting with professionals in various industries. The eBook, available online at http://www.AjaxUnion.com/ebooks, highlights eight separate tips to improve a young professional's networking skills, such as arriving early, researching the event, building relationships, networking with a purpose, turning cell phones off, asking for referrals, making a memorable mark, and following up after the event. By following a few of these helpful networking tips, young professionals and CEOs are sure to make useful business relationships.
Forming a professional relationship can be a difficult and sometimes awkward process. Often times, people will attend networking events just to help sell and promote their business. Ajax Union's strategy for networking explains tips that will help business professionals and CEOs build relationships instead of just make sales. This will help provide a company with future referrals, personal connections, and potential qualified employees that will help businesses grow.
"Our event coordinators at Ajax Union did their research to help develop useful tips and recommendations for the eBook on successful networking. The networking guidelines will keep you from freezing up when meeting new business professionals. If you're at all worried about what to expect from a networking event, just make sure to do your research in advance, bring along a few business cards, and show up with a smile. Everyone attending networking events are looking to make personal business connections, so why shouldn't you?" said Sarah Mogin, Vice President at Ajax Union.
Ajax Union's entire collection of complimentary eBooks can be found online. Expect to find several new eBooks within the next few months, with topics such as HTML for beginners, YouTube optimization, and general social profile optimization. The eBooks can be used as a resource to learn the importance of using tools such as keyword research in order to optimize website content, social media profiles, YouTube channels, and much more.
Ajax Union also offers development plans to generate custom marketing eBooks for their clients. Curious about attending one of Ajax Union's networking events? Call 1-800-594-044 to speak to a representative today, or learn more about upcoming services and events on the company's Facebook and Twitter profiles.