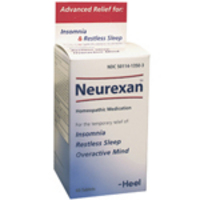 Neurexan® can be used to relieve sleeplessness
Albuquerque, NM (Vocus) September 1, 2010
It is estimated that over 60 million Americans have difficulty falling asleep or staying asleep1. Many don't recognize the effect that poor quality sleep can have on their ability to perform during the day. Sleep difficulties and stress can become a vicious cycle. To complicate matters a study just released shows a variety of common over-the-counter (OTC) and prescription medications can cause long-term cognitive impairment of the aging brain2. Heel USA, the makers of Traumeel®, wants doctors and consumers to know there are natural homeopathic medicines, like Neurexan®, that can facilitate the body's return to a pattern of restful sleep without unwanted side effects or the risk of habituation commonly associated with many prescription products.
Neurology, the medical journal of the American Academy of Neurology in its July 13, issue reported on a study that demonstrated drugs called anticholinergics which are sold OTC under various brand names such as Benadryl®, Dramamine®, Excedrin PM®, Nytol®, Sominex®, Tylenol PM® and Unisom® can cause long-term cognitive impairment in some populations. Anticholinergics block acetylcholine, a nervous system neurotransmitter. Other prescription anticholinergic drugs include Paxil®, Detrol®, Demerol® and Elavil®.
The six year longitudinal, observational study evaluated the development of cognitive impairment in 1,652 African-Americans over the age of 70 who had normal cognitive impairment before the study began. The study determined that limiting anticholinergics may reduce the risk of developing cognitive impairment (in this population), Many of these drugs are used as sleep aids to relieve pain and anxiety, and minimize bladder leakage problems – all very common issues as people age. Much of the cognitive impairment involves memory loss without functional impairment.
Some simple solutions to the use of these serious drugs are things such as exercise early in the day, meditation, yoga, and cutting back on alcohol and nicotine. For those that may need further solutions for the effects of stress and sleep disorders there are natural choices. Neurexan® is indicated for sleeplessness, frequent waking at night and restless sleep. This natural medicines helps to reduce the physical symptoms of stress and restore the body's natural sleep cycle.
Neurexan® can help end the cycle of high stress, sleepless nights, nervous restlessness and poor sleep patterns. It is suitable for long-term use and is safe for the entire family, including children and seniors. Additionally, there are no known contraindications, making Neurexan® safe to take in conjunction with other medications. As with all Heel medicines, Neurexan® is regulated by the FDA and is therefore held to homeopathic pharmaceutical safety and efficacy standards. There is no known risk of side effects, drug interactions or habituation associated with the use of Neurexan®.
According to Joan Lewis, MD, medical director, Heel USA, "Neurexan® can be used to relieve sleeplessness by placing 1 - 3 tablets under the tongue in the evening. An additional tablet may be used if sleeplessness persists or upon waking in the middle of the night. Neurexan® can be safely used with other prescribed medications, for those that are taking medications for other conditions."
Heel USA is a medical company whose mission and vision is to build the bridge between homeopathy and conventional medicine by improving patient care and healing. Heel implements this mission by manufacturing and distributing combination homeopathic medicines which are sold to retailers, such as health food stores and independent pharmacies, and detailed to physicians and licensed health care practitioners throughout the United States. For more information visit http://www.heelusa.com.
References:
1. National Sleep Foundation 2009 Sleep in America™ Poll Highlights and Key Findings.
2. Use of anticholinergics and the risk of cognitive impairment in an African American population Neurology 75: 152-159, 2010.
# # #