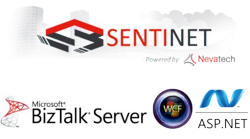 'We are convinced that Sentinet is the best-suited product for SOA governance, especially when Microsoft technologies are involved,' Sam Vanhoutte, CTO & Partner at Codit
Atlanta, Georgia (PRWEB) April 12, 2013
Nevatech, a Microsoft Certified ISV Partner and innovator in SOA governance and APIs management, announces the immediate availability of Sentinet™ version 3.1, its flagship SOA and APIs management software platform.
Sentinet 3.1 is a fully featured SOA governance and APIs management platform for SOA services and REST APIs. By extending its software virtualization platform to support, non-intrusively, both SOAP services and RESTful APIs, Sentinet is helping companies make the strategic shift from legacy SOA architectures to the modern world of open APIs.
Now, organizations using legacy SOAP-based services can easily transition their architectures to support RESTful APIs and take advantage of the same non-intrusive service virtualization capabilities that Sentinet delivers: service security, monitoring, auditing, routing, mediation, transformation, and notification.
"We are excited to announce Sentinet 3.1 release," says Andrew Slivker, CTO of Nevatech. "Our customers build modern SOA architectures and public APIs and ask for deeper integration between design-time governance and modern runtime automated management. Sentinet 3.1 responds to these requests by enabling customers to put their SOA software assets under comprehensive governance and agile runtime management. Sentinet helps customers to address critical and common SOA infrastructural challenges for a variety of environments including on-premises and cloud."
"We work closely together with Nevatech because we are convinced that Sentinet is the best-suited product for SOA governance, especially when Microsoft technologies are involved", says Sam Vanhoutte, CTO & Partner at Codit, the European market leader in Microsoft Integration Solutions. "We are excited about Sentinet 3.1 new design-time capabilities. We know they will be much welcomed by our customers. We are particularly pleased that this new version enables us to easily make the bridge between modern RESTful services and existing SOAP services."
Sentinet is platform neutral and supports any SOAP and REST stack. It is built on Microsoft technology (.NET, Windows Communication Foundation (WCF), Windows Identity Foundation (WIF), WCF Routing Service) and supports the Windows Azure SDK. Sentinet most benefits organizations that standardize their SOA and API architectures on the Microsoft technologies, as well as those that have to integrate Microsoft and non-Microsoft services and APIs.
For more information on the Sentinet service virtualization platform, its advanced SOA and API Management capabilities and a free assessment, visit http://www.nevatech.com.
About Sentinet
Nevatech Sentinet™ is a flexible, lightweight and scalable service virtualization platform with advanced SOA and API Management capabilities. Sentinet is designed to connect, mediate, secure and manage interactions between services across the enterprise or in the cloud.
About Nevatech
Nevatech, a Microsoft Certified ISV Partner, is an innovative provider of SOA and API Management infrastructure and tools for integrated on-premises, cloud and hybrid environments. Fortune 1000 companies use Nevatech products to ensure their services and applications are connected, secured and monitored. The Nevatech Sentinet platform provides organizations and development teams with reliable, secure and agile SOA and API solutions.