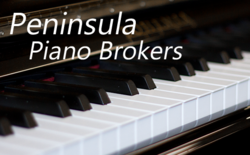 Palo Alto, CA (PRWEB) June 28, 2012
Peninsula Piano Brokers has been providing quality new pianos and used pianos for San Mateo County and Santa Clara county communities, stretching from Morgan Hill to San Jose, Cupertino and Palo Alto and north up the Peninsula to the cities of Redwood City, San Mateo, Burlingame, Hillsborough and South San Francisco. Come celebrate this milestone with owner, Greg Wurm, and receive extra savings on quality pianos during the sale.
Major name brands on sale include Steinway, Mason & Hamlin, Baldwin, Yamaha, Kawai and more. Pianists of all calibers can experience huge savings on beginner to advanced pianos, pianos perfect for recording artists or pianos just for fun. Exceptional values are being offered during this sale that meet the budgets and price ranges for all people in the market. New pianos, alongside previously loved ones, are carefully prepared for their new homes with pricing starting at $500 and going up to $100,000. Whatever the budget, Greg will help find the correct instrument for the music and budget needs.
Peninsula Piano Brokers has been able to stay in business for 25 years because they offer such a wide variety of classic new and used pianos, with more than 70 pianos in the showroom at one time. Aside from being a beautiful piece of furniture, a piano in the home offers engaging warmth that draws people together – a welcome alternative to the electronic entertainment offered by televisions, stereos, or computers. Families and friends come together around pianos today as they have for nearly 300 years.
Greg sees the piano as the most universal of musical instruments: "Many of my customers here in the Bay Area come from areas of the world including Europe, Eastern Europe, Asia, with large numbers from India, China and Japan where pianos play an important role culturally and aesthetically, making it the most universal and adaptable of musical instruments"
Greg's customers include many high-tech innovators in the Silicon Valley. "It might surprise many people that some of the world's greatest technological innovators find great release from their stressful work environments with pianos in their homes, and increasingly in their company lobbies, dining areas and in local hospitals."
For more information, please call 650-492-4220 or visit http://www.peninsulapiano.com. Peninsula Piano Broker is located at 4333 El Camino Real, in Palo Alto.
About Peninsula Piano Brokers
Founded by Greg Wurm in 1987, Peninsula Piano Brokers buys, sells, trades, rents and tunes pianos of all kinds. Unlike many piano stores, Peninsula Piano Brokers carries a variety of instruments manufactured across the globe. Brand new pianos include Baldwin, Bohemia, and Mason & Hamlin - all pianos of the highest quality. In recent years, owner Greg Wurm has won multiple awards as Bohemia's No. 1 dealer in the United States. They also offer a selection of rare and vintage instruments, about which more can be found at the website.